How to be Charming: How to Compliment a Woman or Man (Best Way)
by me, HogWild
In video 686, I gave you 10 ways to be charming! These tips work for guys and girls by making you look more appealing by way of your personality.
A bad personality is like wearing stylish clothes covered with vomit! A great personality is like, um, NOT doing that! Don't be covered in vomit!
DRUNK GUY: Hey! <hiccup!> That's racist against us drunken hobos!
Hobo Sapien isn't an ethnicity.
DRUNK GUY: <hiccup!> Well, it SHOULD be!

A very powerful way to be charming is to compliment something about them that they are self-conscious about.
Now, I wouldn't start with this one because when someone is insecure about something, they can often take your compliment as sarcastic or fake. First they need to trust you. First they should feel comfortable with you.
If you have everything else in place, this move will really make the girl or guy drawn to you. Why? Because they will feel like you accept them. It's a loving statement.
NOTE: Remember the other Charming Tips! Don't be fake! If it's not something you want to compliment, then don't!
HER: That huge wart between your eyes is sooo beautiful.
HIM: Really?
HER: Oh, yes. I think it's adorable how you comb the hair that sprouts out of it.
HIM: You noticed that! I think I love you!
HER: I love you, too, my big strong Wart Cyclops!
So if there's something that this person is insecure about, and you think it's cute, adorable, endearing, or awesome, let them know!
EXAMPLES
- Some physical feature such as ears that stick out, a big nose, extra weight in a certain area, a scar, or a peg-leg.
HER: Your wooden peg-leg is hot! Ya know, most people today go for a prosthetic leg but you're bringing it old school. That's sexy.
HIM: Thank you for appreciating my wood.
Tee-hee!
- They are a tourist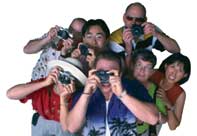 or immigrant and they are insecure about their ability to speak the language. Or they have a mild speech impediment such as a slight lisp.
HIM: I noticed you have little lisp.
HER: Oh! I know. It's so embarrassing.
HIM: Not at all! Actually, I think your voice is really pretty and sweet.
HER: Oh. Well, thank you. It happened because I never blow on my soup before eating it.
HIM: Yeah, it really helps if you blow it first.
Tee-hee!
And here's a very common one you can use...
This is taken from my Premium Members section where I post my new videos.
Here are some more tips, but only Premium Members get the entire video + access to over 600 full dating and relationship videos in the Video Vault!
- This is a method. The PRINCIPLE is that everyone wants to feel understood and accepted. This is a way to accomplish that.
- What makes this all work is when you...
Only Premium Members have access to this Video!
1 - Learn more about the Premium Membership
or
2 - You realize you've been making the same mistakes or not knowing what to say or do all these years! You can get a one-month subscription for the price of a night at a bar. To you, the cost is worth it since it will actually help you get what you want. Join Now!
Need one-on-one coaching? Contact
Dating Coach
HogWild for help!
Latest HogWild Dating Advice


Click here to Get Greater Dating Confidence + Increase your Relationship Skills

Become a paid member and you get INSTANT access to over 500 dating advice videos that will help you answer such questions as...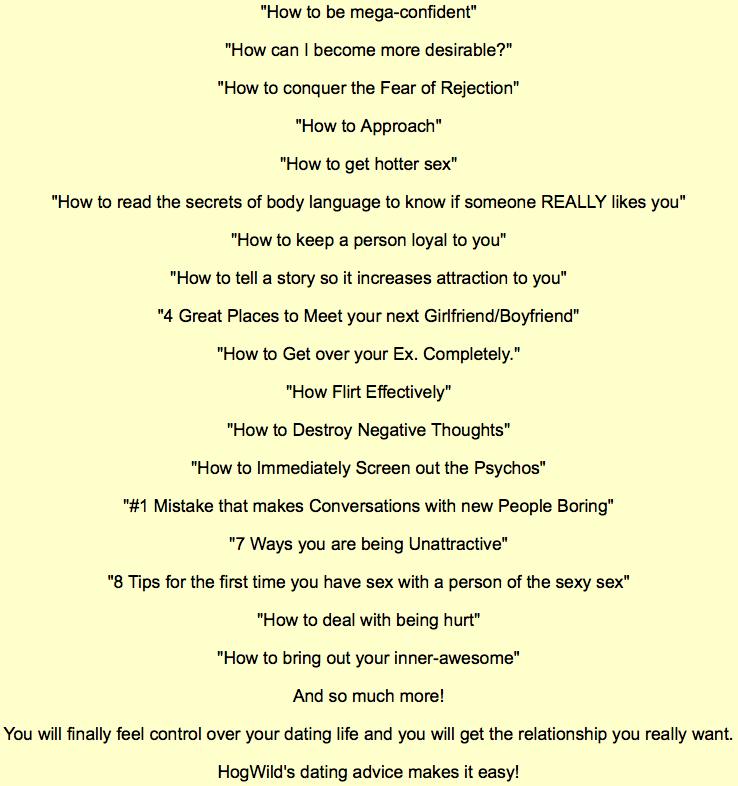 Become a member and get INSTANT access to the videos that will change your love life forever!
***






This article is for people who need help with:
How to be Charming
how to charm a girl
how to charm a guy
how to charm a person
how to be popular

how to compliment a girl
how to compliment girls
how to compliment women
how to compliment a woman
how to compliment a guy
how to compliment guys
how to compliment a man
how to compliment men