Hog's mom approves of this article.

Oscar Fact: The Oscar statuette depicts a knight holding a sword, standing on a reel of film with 5 spokes. The spokes represent the 5 branches of Hollywood film-making: Actors, Writers, Directors, Producers, and Drug Dealers.

Reality-check Oscar Fact: The Oscars are a fancy black-tie event celebrating a product watched in theaters by people wearing jeans stained with popcorn butter and chocolate Raisinettes.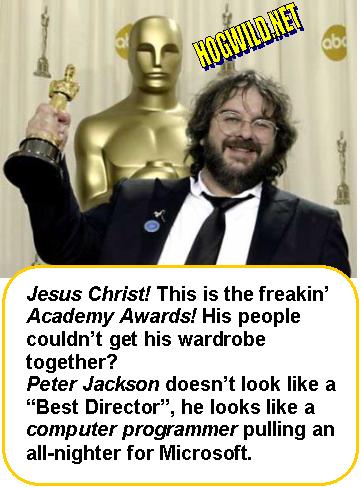 Ironic Oscar Fact: Each year the Academy carefully chooses an outstanding comedian known for poking for at the establshment to host its celebration of the establishment.

Sad-state-of-culture Oscar Fact: The Academy Awards honors the best movies and is broadcast to 143 countries. The Pulitzer Prize honors the best works of literature and is broadcast to 143 people watching the event in the Harry S. Truman High School gymnasium.

Probably-True Oscar Fact: The 1st Academy Awards was held May 16th, 1929 in Hollywood and was hosted by Joan Rivers.

Oscar Fact: This year, 88 countries have submitted over 300 films in the category of Best Foreign Language Film... about which the American public could give 2 sh!ts.

Oscar Fact: The Academy of Motion Picture Arts and Sciences describes itself as a professional organization of over 6,000 motion picture craftsmen. Craftsmen who carefully produce brilliant performances such as Rob Schneider pleasuring a 500 pound woman while wearing baby diapers in Deuce Bigalow: European Gigolo.

Oscar Outrage!: The film franchise Police Academy never won an Academy Award!

Sarcastic Oscar Fact: Many Oscar-winning actors and actresses use their moment in the spotlight to promote social causes. Because the political opinions of people who "make pretend" for a living are very important.

Too-True Oscar Fact: The Oscar is officially accepted as a form of currency at every level of Los Angeles' cocaine-based economy.

Oscar Fact: The Academy Awards gives the public a chance to really appreciate Writers. Especially when they hear the incredibly boring, rambling acceptance speeches written by the actors.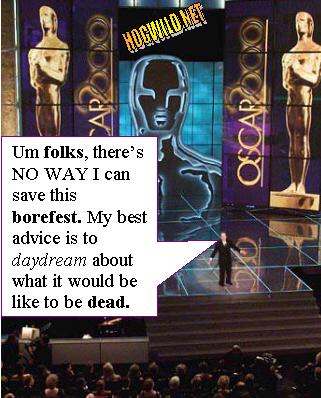 Wishful-Thinking Oscar Fact: The Oscar broadcast would be more interesting if the audience acted more like a real movie theater audience with the young couples making-out and doing naughty things in the dark!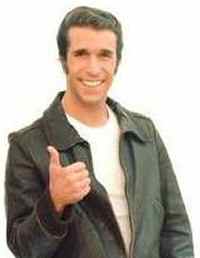 Want a kick-ass comedy show for your college or party? Email me for details.