What are some ways to meet guys in the gym?
- B in Ontario, Canada
Hog's Relationship Advice:
Get him to notice you. See him on the exercise bike?
Get on the one next to his. Climb on by putting your leg WAAAAY up in the air then wrap it around the bike while looking deep into his eyes and slowly licking your lips.
This will surely get his attention because you'll also be wearing a bright orange bicycle helmet strapped around your chin.
Then you rev up the handlebars like it's a motorcycle while rolling your R's like an purring engine.
If that doesn't work, then do this special flirty move that always works. Ignore him for a bit. Then turn your head to him and allow your hair to swing over your shoulder in slow motion. Then put your first two fingers around your mouth in the shape of a V. Now flick your tongue out between your fingers.
He is certain to ask for your name.
So he can report you to Security.
You know, I'm always surprised when girls tell me it's hard for them to meet guys. Meeting GREAT guys might be hard. But meeting dudes in general?
Meeting guys is super easy because guys DON'T GET APPROACHED that often.
The reason it's difficult for guys to approach hot girls is because these girls are constantly being approached and they've heard it all. So they are quicker to reject a guy.
For this reason, many guys will approach more average-looking women because they are more likely to "give him a chance."
Very few guys are approached TOO often. 1 - because girls just don't do that sort of thing and 2- because guys are more willing to wam-wam in your wig-wam even if it won't lead to a relationship. And you know why we do that?
Because we're nice people. Hey, you might not be relationship material but at least we're will to let you ride our boink-stick.
The only guys you will have trouble approaching are super hot dudes who know it and already get copious amounts of copulation... and celebrities.
Simply put, most dudes are not in a position to be turning girls away.
THINGS DUDES DON'T USUALLY TURN DOWN
- Reasonably attractive girls
- Free beer
- Ugly girls who give us free beer
Plus, you won't be getting rejected because you shouldn't be asking them out. You should be hinting and flirting and tempting him to ask YOU out.
So number 1 is to feel confident that he will at least listen to your pitch and basically check you out to see if you meet his minimum hotness level.
Now to get to specifics...
The gym can be a tough venue because you will see this person all the time. So you shouldn't be too blatant because if he's not interested you don't want future encounters to be awkward.
Be friendly.
Be flirty.
Don't be desperate.
The gentle way is to get him to approach you:
When you see him at the gym, smile at him. Say hello. Let him catch you looking at him, then smile.
The bold way...
Find something to compliment him on.
For example:
YOU: Hey, I see you here all the time I just have to tell you that you have the cutest package in those shorts!
NOTE TO GIRLS: Never call a dude's package "cute."
Or keep it simple:
YOU: You know, I see you here all the time and it's silly that we don't even know each others names! My name is... So how long have you lived in the neighborhood?...
If he is very brief and does not keep eye contact he is not interested. If he seems happily surprised and makes an attempt to keep the conversation going, then you're in.
Get him to ask you out. If he doesn't, don't take it personally. He could have a girlfriend, he could be gay -- or both!
The WRONG ways...
Hey there hot stuff! Nice buns!
Now, this IS the gym so there be sure to NOT to approach a guy when...
- He's in the middle of bench pressing 230 pounds
YOU: Hey, so uh, you come 'round here often?
HIM: Aarrrrr!
YOU: OK! It was a cheesy line! Don't get mad at me!
- He's running on the treadmill
You sneak up behind him and tap him on the shoulder. You startle him, he turns around, and falls off the treadmill, and his headphones get tangled around his throat, choking him.
YOU: Soooo... whatcha listening to?
- He's lifting heavy dumbbells
And you decide to do your stretching in his view. You bend over and touch your toes. You lift your leg over your head. Then you fall to ground to a full split and bounce up and down on your hoo-ha while juggling your snuggle-bubbles.
In general, I'm against girls asking guys out. It's your job to GET HIM interested in asking YOU out. Let HIM risk rejection. He's the man and he should lead. Unless you don't mind being the aggressive one in the relationship...
In that case, club him over the head with your purse and drag him back to your cave.
The most forward thing you should say is, "It was nice meeting you! Maybe we'll grab a drink or something sometime."
The reason is because you want a guy to think that you're hot stuff. Girls who are hot stuff get asked out all the time. They don't run around asking dudes out. So be flirty until he gets the idea that you like him.
GOOD FLIRTING AT THE GYM
Hello again! You're here all the time! I like a man who knows how to keep a commitment! HA HA!
BAD FLIRTING AT THE GYM
Gosh, you are all sweaty! Would you like me to wipe the sweat off your glistening muscles? With my boobies?
Why am I inside the men's locker room? Uh, because I, uh, lost my towel and I thought I might find one in here... and look! YOU'VE got a towel! Yoink! Now I've got a towel and YOU are naked! Ooh I see you've got a long member...ship. A long gym membership...
Hey! Get your hands off me Mr. Security Guard! Stop dragging me on the floor! I am kicking and screaming! Hey hot stuff! So you wanna grab a drink some time?! I've got free beer!!!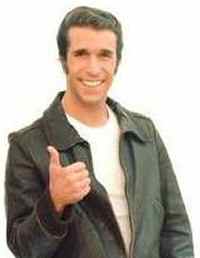 * Watch my dating advice videos or improve your dating with dating coach HogWild.

* More HogWild Dating Advice
Subscribe in a reader Share on Facebook
HOGWILD.NET Expert Dating Advice + Dating Advice. expert dating advice every day