Hog's mom does NOT approve of this article.
This week is Hanukah! I'm Jewish so I celebrate. But I'm also HogWild so I have my own HogWild traditions! Most Jewish people play Spin the Dreidel. It's basically a dice game.
You can play for money but most play for candy. Let's just say my new version is not one that you want to play with your family. :)
NOTE: Unless you live in West Virginia and adhere to the popular stereotypes of your region.


In the official version of the Dreidel game, you spin the Dreidel and then it lands on 1 of 4 Hebrew letters. The letters stand for words that represent how much of the pot you collect or how much you have to give back.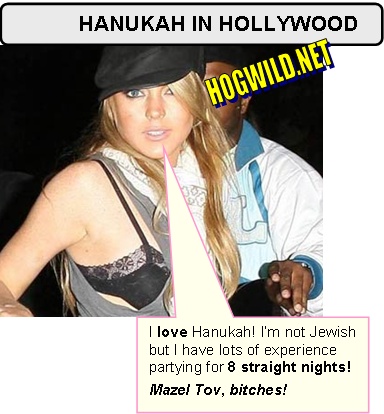 HOGWILD'S HANUKAH DRINKING GAME
The Jewish people have been persecuted for 1000's of years in nearly every nation before being granted their own nation of Israel.

So this drinking game is dedicated to getting drunk. But not drunk to forget, drunk to remember! The Hebrew letter you land on corresponds to the country where Jewish people were smacked down.
נ (Nun) = Nazi Germany. During World War II the Germans were a little bit mean to the Jewish people. They called the Jewish women ugly and any time somebody farted they blamed the Jews, and they also systematically slaughtered 6 million Jewish people. Drink a Beck's Beer.

ג (Gimel) = Gulp Spanish Sherry to represent the Spanish Inquisition in the 1400s. During this time the Spanish government was not very nice to the Jewish people. If you were Jewish, they stole your lunch money. They poked you in the belly, asked, "What's this?!" And when you looked down they ran their finger up to your face while making a funny sound and then laughed. And if you were Jewish they also burned down your House of Worship and forced you to convert or die.
ה (Hi) = Hi and Goodbye as France expelled Jews from 1182-1394. Drink French Champagne and eat smelly French cheese. During these years the French people were very rude. It's a tradition that lasts until today. If you were Jewish they also took all your stuff, kicked you out of your home, and then made you pay the King to be allowed back in to see your family.

ש (Shin) = Get Sh!tfaced on Stolichnaya Vodka from Russia to remember Russia forcing Jews out during World I and from 1960 until forever.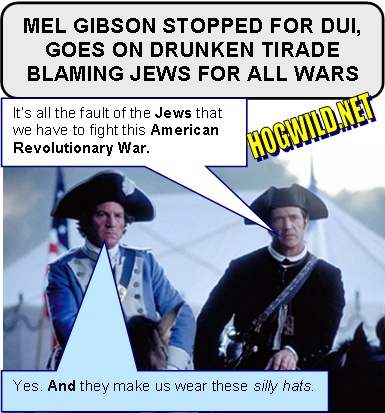 Okay, that was like a history lesson. We all learned something. So now let's get ignorant!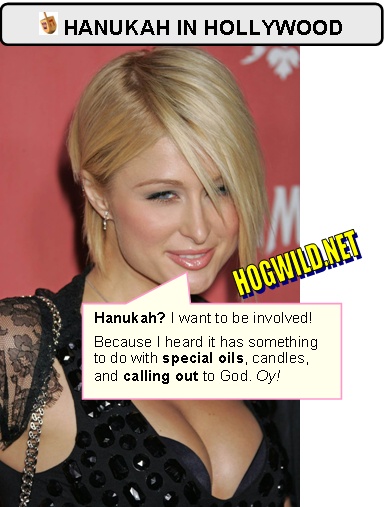 HogWild's Hanukah Strip Dreidel Game!
Spin the dreidel and if it lands on...
נ (Nun) Guys, slowly remove your yarmulke*. Girls, seductively remove your coat. Don't complain that you're cold.

NOTE TO NON-JEWISH PEOPLE: A yarmulke is that little hat worn by religious Jewish men. The Pope wears one too because he wants to be cool.
ג (Gimel) = You can put any piece of clothing back on. Mazel Tov!
ה (Hi) Guys, you must remove your shirt. Girls, the only think that may cover your breasts now are 2 potato latkes. Don't complain that your latkes are cold.
ש (Shin) Holy Moses! Time for an Exodus of everything below the waist! Guys, the girls will now see your Hanukah Candle and Matzah balls. Girls, the guys will now celebrate around your Gaza Strip or if you're a little un-kosher down there, your Hanukah bush. Oy!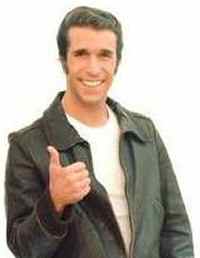 Want a kick-ass comedy show for your college or party? Email me for details.