Oktoberfest is here!
In case you don't know what Oktoberfest is, it's the World's Biggest Festival.
Why is it the World's Biggest Festival? Because where most festivals celebrate a nationality or faith, Oktoberfest celebrates something that everyone can agree on... beer!
People from all over planet Earth pilgrimage to Germany to throw down adult beverages, sing in good cheer, and ridicule the French.
NOTE TO MY FRENCH FRIENDS: I am only kidding! Believe me, when everyone is making fun of you, I defend you!
NOTE: Because I know you can't defend yourself!
NOTE TO MY FRENCH FRIENDS: I'm sorry. That was low.
NOTE TO EVERYONE ELSE: HA HA HA!
Oktoberfest is PDA (Pretty Damn Awesome) as it is... but I have some ideas to make it more Hogtactular. So move over Oktoberfest.... here comes Hogtoberfest!
We drink beer!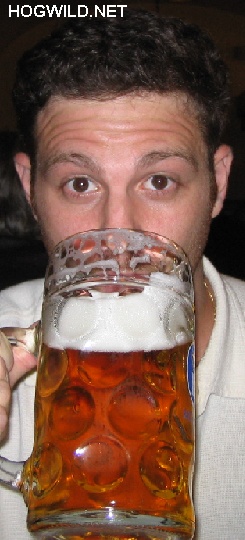 But why are we drinking beer out of boring mugs?
Everybody gets crazy straws!
NOTE TO IMPRESSIONABLE CHILDREN: Just because you see grown-ups drinking a frosty beverage out of a crazy straw and then they become relaxed and fun does NOT mean that you should do the same! Beer is only for adults! Kids aren't good enough for beer! You brats just remember... beer brought you into this world and beer can take you out!
At Hogtoberfest, I ask you, Why are we limited to DRINKING beer?
I say we have Beer Fights! We fill up Super Soaker water guns with beer and spray each other. This will encourage more drinking. Because when I shoot you, you will move quickly to swallow the delicious beer bullets.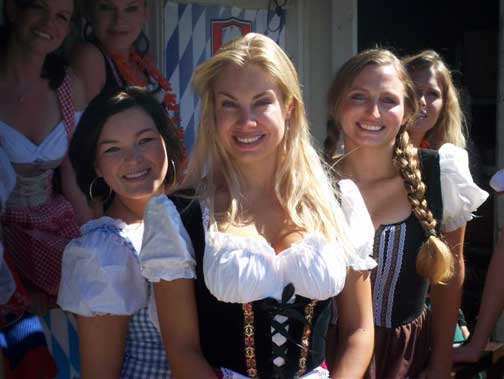 Oktoberfest is famous for its beautiful blonde women serving beautiful blonde beer. But at Hogtoberfest, we throw in a wet t-shirt contest... with beer!
So we don't waste any good beer, we'll wet down the girls with American beer. Because American beer is like p!ss. So this means the girls are covered in, well, let's just say that both the German men and R. Kelly will be really happy.
If you like my article on Oktoberfest, check out...
* Hottest Sports Wives: If you can't Win a Trophy, then Marry one!
* World's Hottest Female Athletes
* Hottest Female Sports Reporters
* Top 10 Sports Illustrated Swimsuit Covers of All-Time
* The Hottest German Girls of Germany
* Megan Fox is so Freakin' Hot, to Feel Her Up, You'd Need to Wear Oven Mitts
* Beat your Pinata to Mexico's Hottest Mexican Women
* Pictures: LA Laker Girls vs. Boston Celtics Dancers
* World's Hottest Jewish Women
Hogtoberfest will keep the original heritage and employ important German phrases such as Blitz-Krieg!... Look at das boobies! Ya, and her der Heiney is Guttenfirm.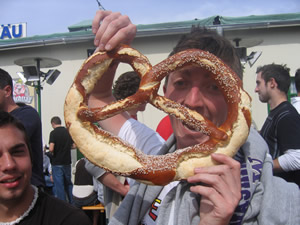 In Germany, everything is big: the beer, the pretzels, and the aspirations for global domination.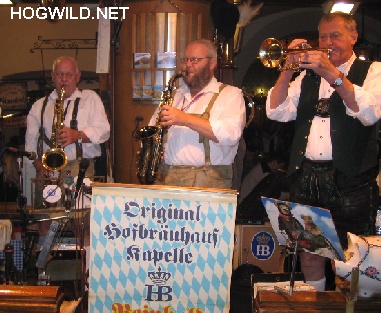 ABOVE: These guys get a lot of p*ssy.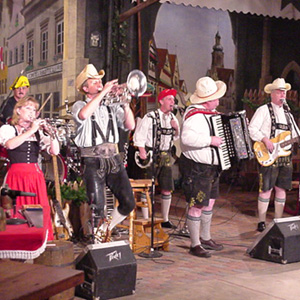 At Oktoberfest, the traditional German music of thrashing heavy metal guitars and blood-curdling throaty screams are replaced with accordions and brass.
At Hogtoberfest, we throw in a hip-hop DJ and a crazy German rapper busting verses like:
Fa shizzle, ma schnitzel
Fizzle ma schtepitzel
Ya I'm braggin'
Got rims on my Volkswagon
I'm a sinner and winner
Eat Kraut for dinner
Ich bin ein Berliner!
I spit ill rhymes like a sick cough
Word up to my homey MC David Hasselhoff!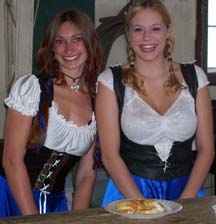 Oktoberfest begins with the mayor of Munich (the host city) triumphantly announcing, "O'zapft is!" or "The barrel has been tapped!" Which coincidentally was the same thing I shouted after the first time I had sex.
Which is why I never had sex again.
NOTE: Just kidding! I didn't actually say that! But it's true, I never did have sex again.
But that's okay. I have a rich fantasy life... Fantasy Football, Fantasy Baseball...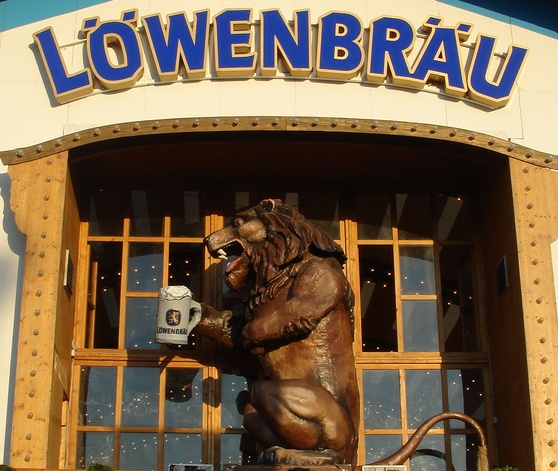 As you can see from this mascot, German beer is fierce.
If American beer had a mascot, it would be a little sissy girl sipping her little sissy beer out of a little sissy tea cup.
NOTE TO AMERICANS: I am a proud American. And while we dominate the world in important areas such as fast food consumption and pollution, we are still way behind in the beer brewing department. Wake up beer manufacturers!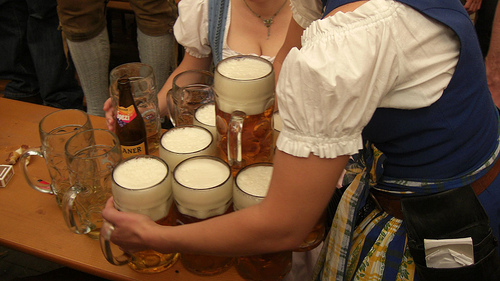 ABOVE: They're overflowing! And the mugs are full, too!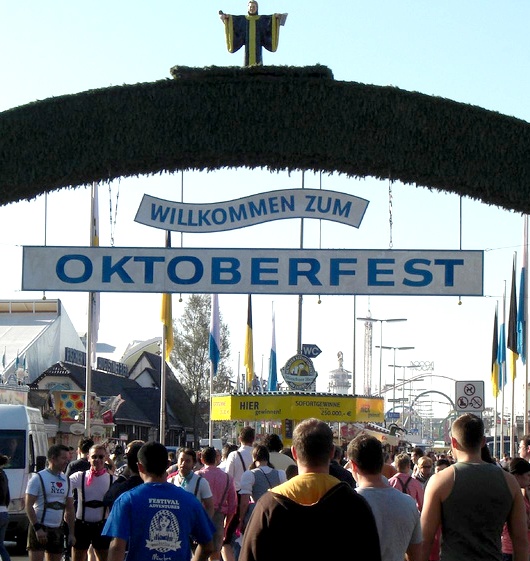 In the above photo, look at the guy all the way on the left. He's wearing an "I Heart NYC" shirt. Now look at his friend with the pink neckerchief. I think dude's shirt should say, "I Heart Man-Booty."
And who is that figure on top of the sign? Is he the Patron Saint of Beer? Saint Fartholomew?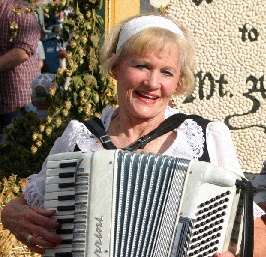 ABOVE: This nice lady is enjoying Oktoberfest. But at Hogtoberfest we go HogWild! So now she's using the accordion as a Thigh Master... while n@ked. AAAAAAAAAAAHHHHH!!!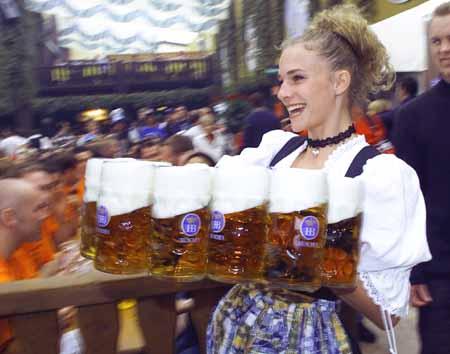 Look at that rack!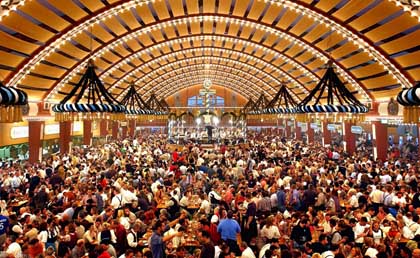 ABOVE: This is one of the famous beer halls in Munich. It's like your high school cafeteria except instead of chugging chocolate milk, you're chugging beer. And there are no sporks.
DID YOU KNOW? The 1st Oktoberfest was actually the wedding of Prince Ludwig to Princess Therese in 1810.
DID YOU CARE? No.
Drink beer!
At Hogtoberfest, the sexy German girls wear shirts with sophomoric slogans like, "We only serve big sausages."
And finally....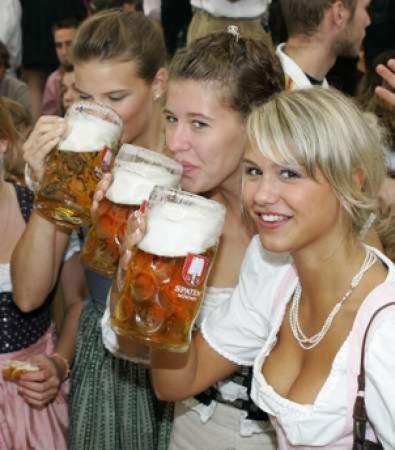 Whether it's Oktoberfest or Hogtoberfest, ya gotta love girls with big beer mugs.