It's time for baseball's All-Star game. Yeah, OK, great. But here in HogWild Land, it's time for me to present to you the All-Star Wife Team! While the baseball players get all the acclaim, it's these strong women who keep their men happy off-the-field and inspire them to keep coming back inside their dugout.
Every line-up starts with table setters... So here we have two table-setters who set the table...
Leading off we have the wife of Johnny Damon, Michelle: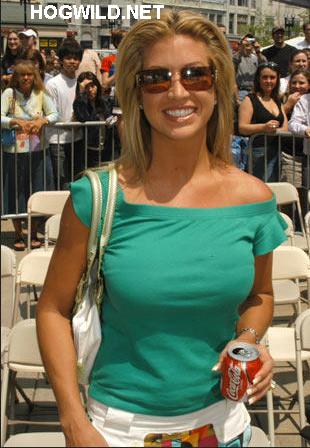 ABOVE: Can you spot all 3 cans? HA HA HA!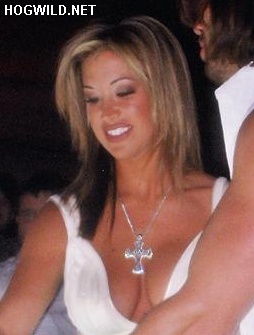 Johnny Damon always gets off to a slow start to the season. Here is my theory: It's because instead of spending the off-season shagging fly balls, he's shagging his wife 3 times a day -- and he's exhausted! He's only player to START the season with a groin pull injury!
Getting it in the 2 hole, is the sexy wife of Mark Kotsay, Jamie: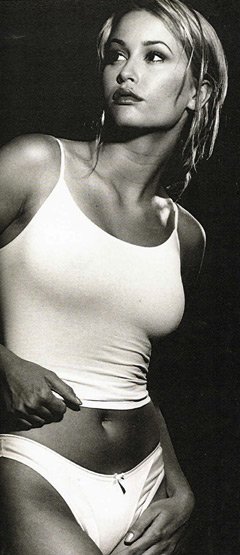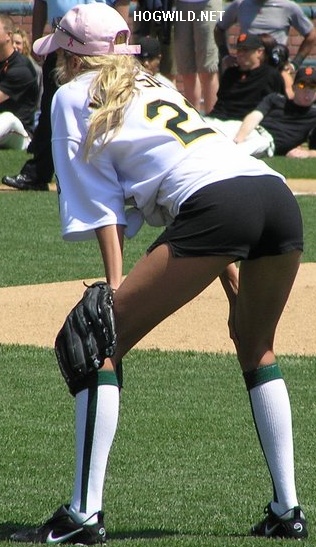 Mark Kotsay isn't even that great of a player. Maybe he'd be better if he wan't distracted by his wife's hotness. Really, how can he concentrate on the game when he knows that no matter if he strikes out 4 times he's still gonna hit a grand slam in bed? So Jamie, please, withhold your fun-dip until your husband improves his batting average.
Batting 3rd you want someone who makes good contact. And here is a baseball wife you will definitely want to make contact with. And guess what? She's married to a player who also isn't all that good! WTF?! I guess the bench players have more free time to scout for "talent"... So here is the wife of Aaron Boone: Laura Cover. I'd sure like to cover HER bases! Whoa!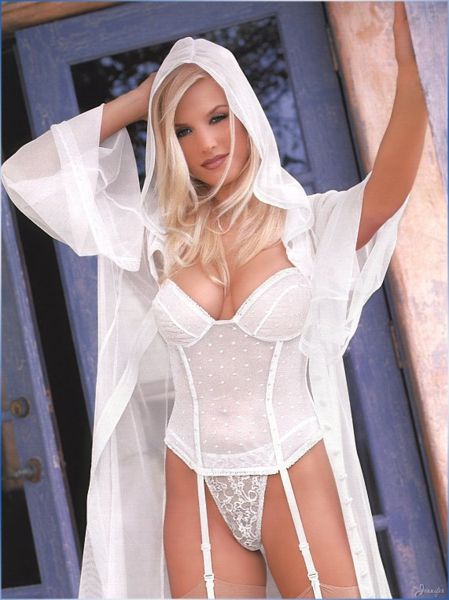 * Check out my helpful and hilarious Expert Dating Advice videos once you're done drooling over these hot baseball wives.
Batting clean-up is where you put your slugger. So here I put a girl who hits it out of the park. It's Nick Swisher's wife Danielle Gamba: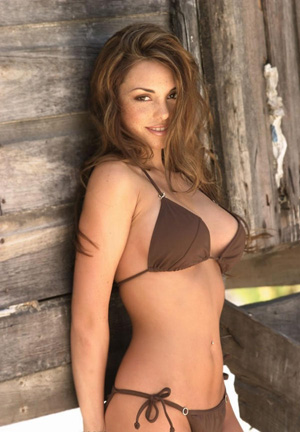 Nick Swisher is yet ANOTHER player who is no superstar, yet his wife is ready to be inducted into the Hottie Hall of Fame.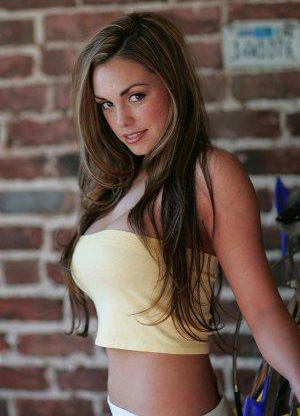 While Nick Swisher struggles with runners in scoring position, his wife Danielle Gamba is smoking hot while in scoring position! Hoo-ah!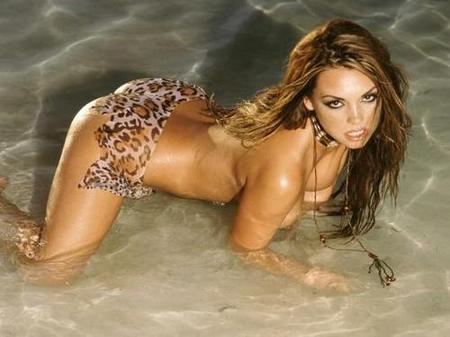 Danielle Gamba is a Playboy Playmate and she was a cheerleader for the Oakland Raiders. "2-4-6-8, she makes me want to m@sturbate!"
Now, some of you are thinking Danielle Gamba is just another dumb blonde with brown hair. But no! The girl gets her smarts on! She's got a college degree!
In "Apparel Design." But still! It counts! And she's classy... she danced ballet in a professional production of The Nutcracker! See how classy she is...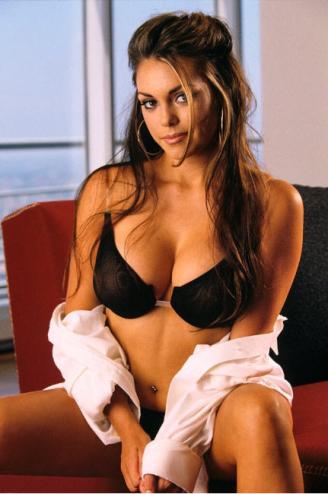 Danielle Gamba is so hot, I'm going to include this video clip.
WARNING: Play on MUTE! This banal interview will melt your brain like uh, something that melts. AH! I admit it! I watched the video with the sound on and now my brain is mush!
Batting fifth we have the hot wife of Scott Podsednik, Lisa Dergan.
And... Scott Podsednik is ANOTHER player who is pretty damn mediocre! And as of this writing, he doesn't even make $1 million per year! HA! Lisa Dergan must really love him. I mean, how can a girl get by on a salary of merely $750,000?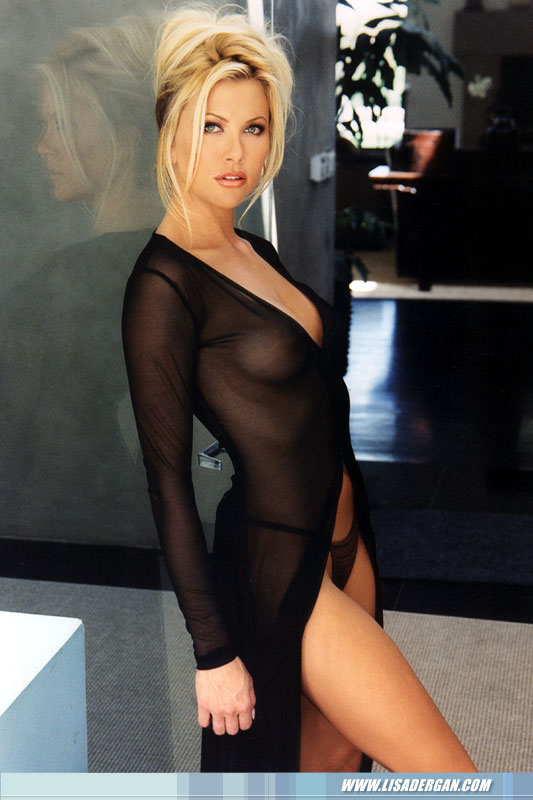 OK, so Lisa Dergan continues our trend of Playboy Playmates hitched to crappy baseball players. BUT... this girl is smart. She has a useless degree in Art History. But hey, she graduated! AND... she speaks Japanese! That's perfect for when her husband is dropped from the Major Leagues and has to play in Japan! I told you she's a smart girl!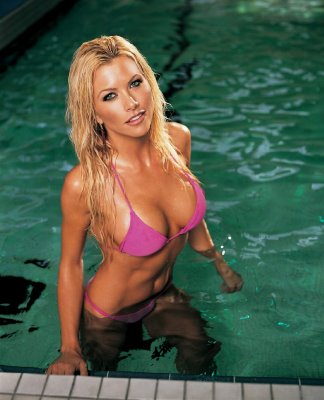 Players don't mind being told to hit the showers when Lisa Dergan is there first: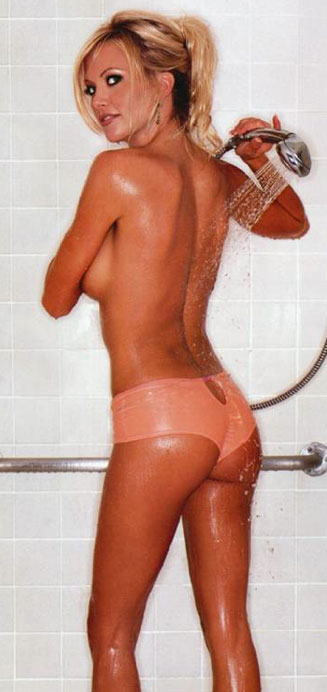 Batting 6th is the wife of Cole Hamels. OK, this guy is actually a really good pitcher. And his wife brings the heat, too. She's Heidi Strobel. Here she is without much make-up from the TV show Survivor: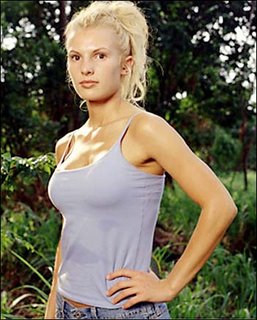 Since we're talking about pitchers, let's take a break from the line-up to look at the hot wives warming up in the bullpen. Two MILF wives. Here is the wife of Curt Schilling, Shonda: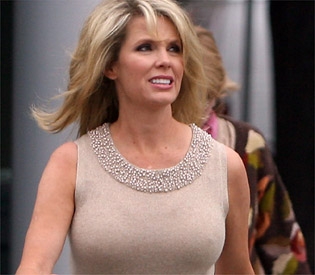 And the wife of Tom Glavine is MILFtastic, too! Here is Christine Glavine:
Classy looking chicks. Well, enough of that. When catcher Jorge Posada isn't twiddling his fingers between his own legs giving signs, he's twiddling his fingers between HER legs: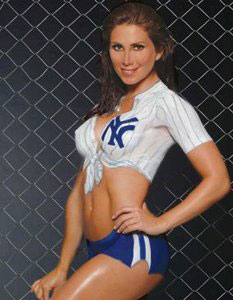 That's Laura Posada, wife of Jorge.
Where were we in the line-up? Oh yeah. Who cares.
Shortstop Miguel Tejada is a great player. But he was busted for injecting illegal substances into his body. Don't feel bad that he got busted, because he's also injecting it into the body of his busty wife, Alejandra Tejada: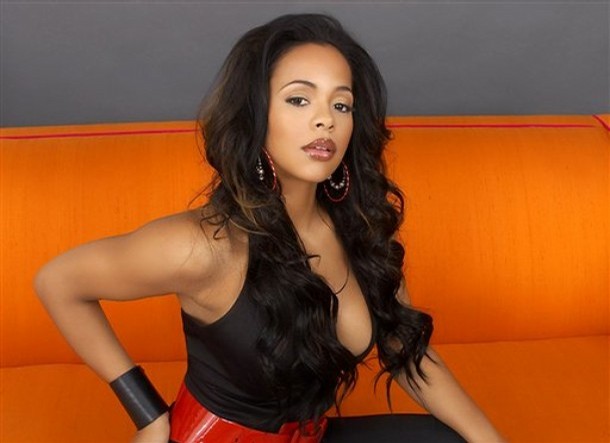 Gabe Kapler is married to this little hottie, Lisa: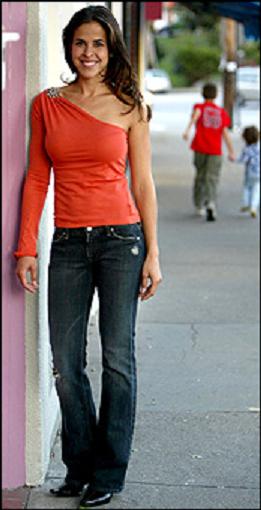 And here is the beauty queen wife of John Patterson, Shannon Schambeau: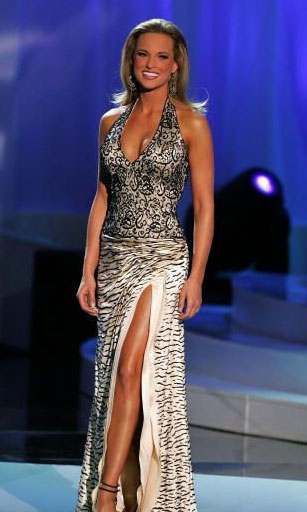 Hall of Famer catcher Mike Piazza spent his career protecting home plate so he could marry a little hottie, Alica Rickter, to serve him dinner on his plate at home.
NOTE: Yes, I know baseball wives are as likely to cook as their husbands are to stay faithful.... Hey! Maybe there's a correlation!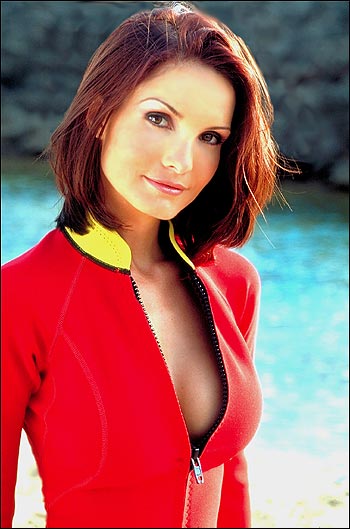 Now we have a little blonde cutie. 5'7" and all heart. I'm talking about David Eckstein! And his wife Ashley is cute, too: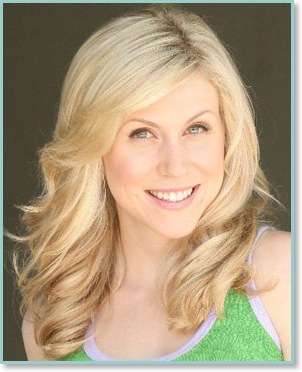 Next we have the wife of star player Mark Teixeira, Leigh Teixeira. See, it seems that the really good baseball players have pretty wives, not hot-skank-wives.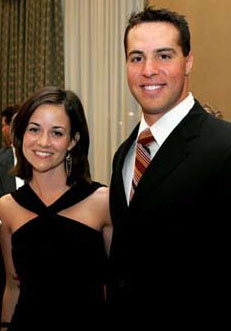 So the lesson here is: if you want a really skanky hot slutty wife, all you need to do is sign a multi-million dollar contract and sit on the bench. But if you want to be a great player, have a classy woman at home. And only bang skanks on the road!
See more of my comics!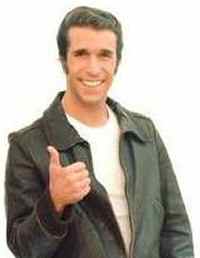 Want a kick-ass comedy show for your college or party? Email me for details.