In honor of the new Sports Illustrated Swimsuit Edition I thought I'd do some incredibly painful research for you. I went through EVERY Swimsuit cover since 1964 to find you the Top 10 Hottest Swimsuit Covers.
This is a tribute to beauty and boobies and air brushing boobies.
So sit back, relax, and please, try to keep both hands on the keyboard while I take you on a trip through time of hottie-hot-hotness.

Number 10:
That's Kathy Ireland back in 1989. That's actually the #1 selling issue of all-time. But it's not the hottest. At least not by today's standards. One thing that's changed is, back then, girls had eyebrows. Today's woman has anorexic eyebrows. Kathy's are full-figured. Her eyebrows would get ridiculed by today's eyebrows until her eyebrows cried and went on a dangerous crash diet of waxing and tweezing.
Number 9: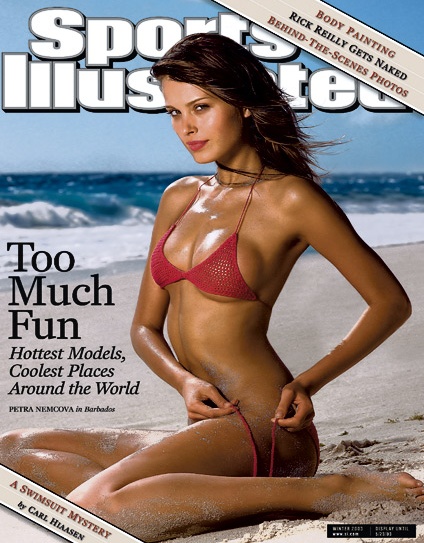 What's cool about this photo is that her bikini top doesn't completely cover the bottom part of her boobs. Ladies, us guys are fascinated by the bottom of your boobs. Because we rarely get to see that part. You always show us the tops. The cleavage. But the bottom of the boob... that's naughty.
Number 8: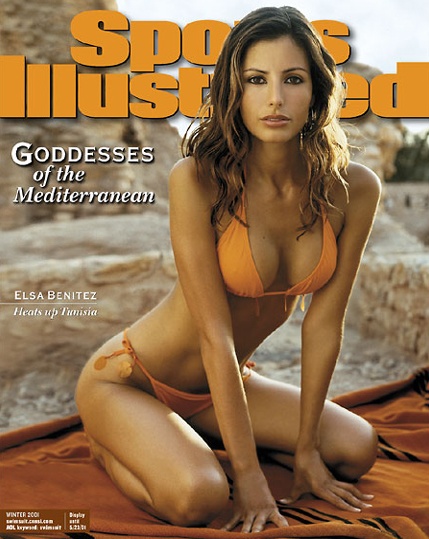 Notice the complementary colors? The tans and oranges that fire up a warm feeling? No? You were just staring at her boobs? Cool. Me, too.
And here is number 7: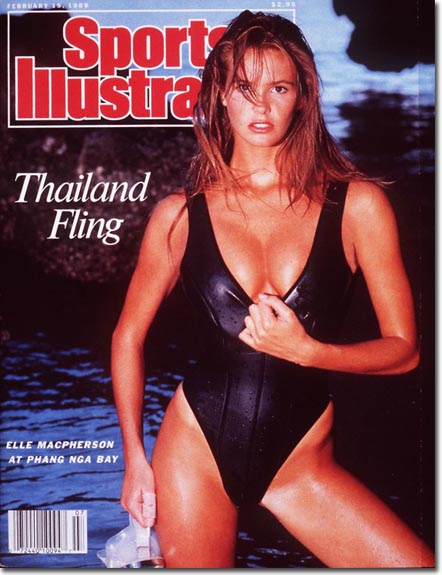 Girls, the key to being hot is to cover up a part of your body and then act like you're going to show it to us. It's called teasing. The Art of the Tease separates the Sexy from the Skanky.
Example: Jessica Alba... sexy. Paris Hilton... filthy, wh0rishly stinky, festering, vomitacious vulgar skank.
Number 6: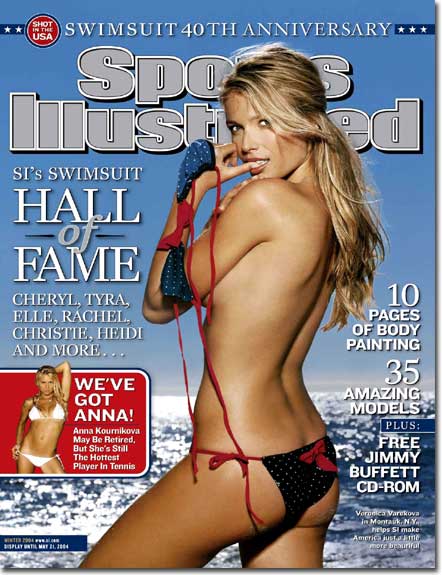 Whoa. That's a really cute swimsuit bottom. But I guess the swimsuit top was too tight or it was itchy or something because she had to take it off. What really doesn't make sense is that she's looking at me! Whoa! I think she likes me!
Normally I'm a boob-guy or a butt-guy... however she's got a really sexy back. I've never thought that before: "Wow! Look at the sexy curvature of her spine!"
But really, she has a sexy back. I want to massage it. No I don't. I forgot that I'm too lazy. I don't care how hot a girl is, I don't want to give her a massage. Unless it's her boobies.
Number 5: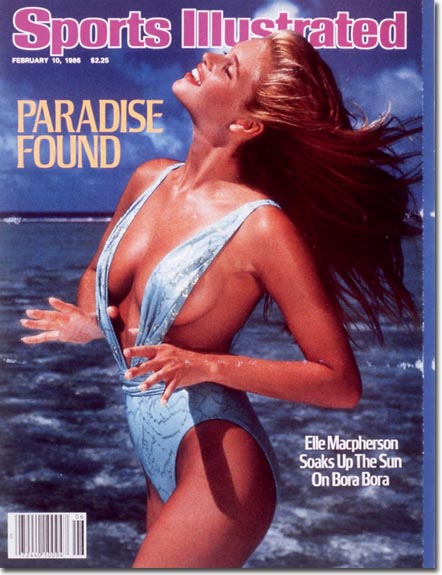 The year was 1986. The Mets won the World Series. I got some good toys for Hanukah. And Elle Macpherson wore a combo granny-bottom/n!pple-blindfold bathing suit. Life is pretty damn good.
Number 4: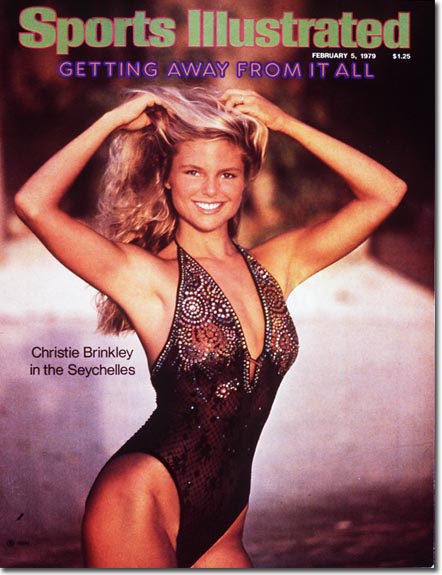 I'm taking you back to 1979 for this pick. Christie Brinkley is so hot she gets on the list despite that her bikini looks like a hotel curtain from a bad p*rno movie.
If I was on my deathbed and could only see one face before I die... it would be this one. Or Ernie from Sesame Street. Either way I'd die happy.
Number 3: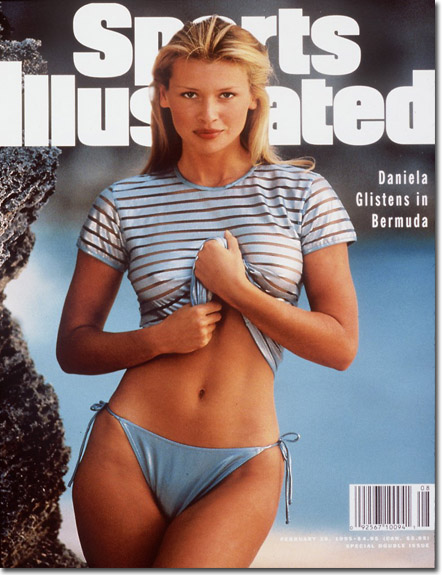 My lord. Full lips. Pretty face. And a feminine stomach. I like a flat stomach but not a girl with a 6-pack. A girl is supposed to be soft and curvy. I don't want to be able to hit a tennis ball against her stomach and have it bounce back to me.
Number 2 Sports Illustrated Swimsuit Cover of All-Time: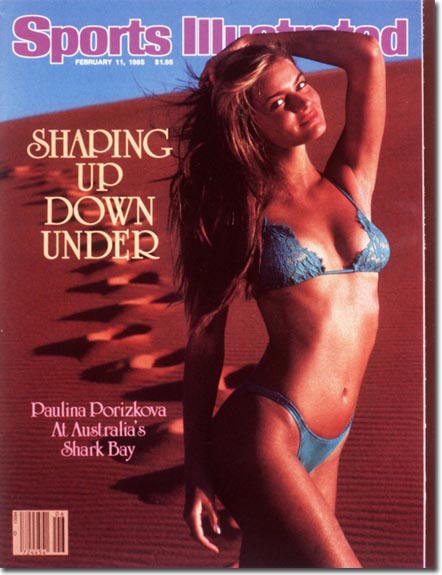 That was back in 1985. She's natural and has the face of an angel. Plus her bikini top looks like lingerie and she's doing that flash-the-armpit thing which is so hot. Yummy armpits!
She's so beautiful. She's the innocent girl-next-door who you think you have a shot with but really she's only into guys with tattoos and cocaine.
And finally we have the Number 1 hottest Sports Illustrated Swimsuit Cover of All-Time: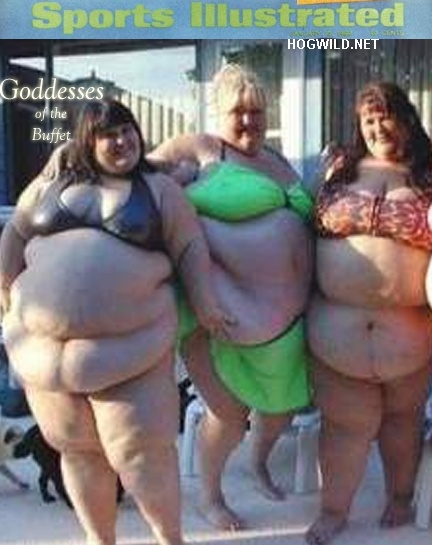 HA HA HA!
Okay, for real, here is Number 1: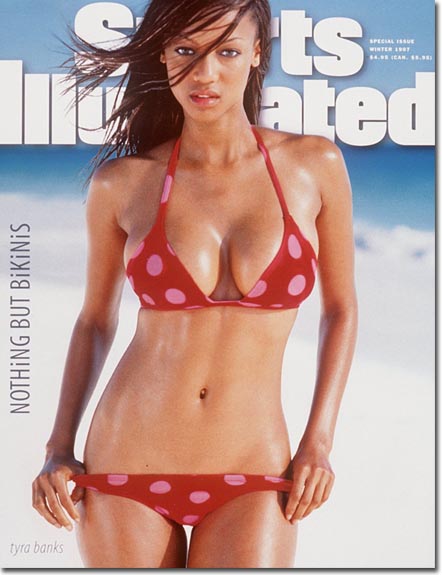 Simply gorgeous. Boobies are boobiful. Tight sexy stomach. Pouty lips. Smokey eyes. And she's pulling her panties off. That's always a bonus.
That was Tyra Banks back in 1997. Here she is now: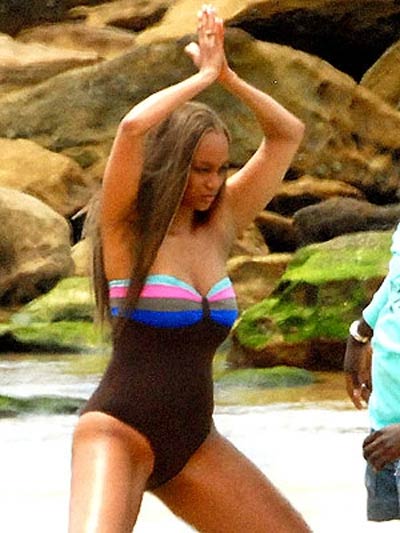 She went from Mermaid to Manatee.
She's okay for a regular chick, but say, you married her back in '97 thinking you had a smoking hot babe for life... sorry, dude. That's why I NEVER choose a serious girlfriend based on looks. In fact, my motto is: "I don't care how you look, as long as you can cook!" Because guys, looks fade. But meatloaf... that's forever.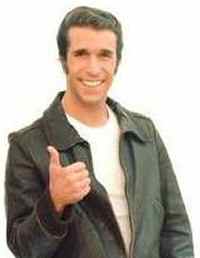 If you like these hot pictures, you will also like:
* Hot Female Sports Reporter: Jenn Brown
* Hottest Sports Wives: If you can't Win a Trophy, then Marry one!
* World's Hottest Female Athletes
* Hottest Female Sports Reporters
* Top 10 Sports Illustrated Swimsuit Covers of All-Time
* The Hottest German Girls of Germany
* Megan Fox is so Freakin' Hot, to Feel Her Up, You'd Need to Wear Oven Mitts
* Beat your Pinata to Mexico's Hottest Mexican Women
* Pictures: LA Laker Girls vs. Boston Celtics Dancers
* World's Hottest Jewish Women
* World's Hottest Female Athletes
* Who is the hottest female singer of all-time?
* The Hottest Women on Television
* Hottest Actresses of Bollywood
* Who is the Hottest Bond Girl of All-Time?
* Hottest Girls of Christmas: The 12 Babes of Christmas
* Hottest Flat Girls: Hooray for Tiny Boobs!
* Miami Heat Dancers (Hottest 15 Pictures)
* Hottest Brazilian Girls: Adriana Lima, Gisele Bundchen, Alessandra Ambrosio, Ana Hickmann