The Academy of Television Art & Sciences Hall of Fame just inducted William Shatner, Tom Brokaw, and Regis Philbin. Yaaaaaaaaawn.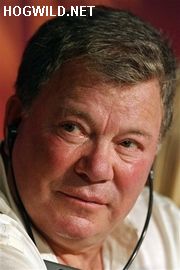 ABOVE: Each year, William Shatner looks more and more like my grandmother.
1st of all, most of what I see on television is neither art OR science. 2nd of all, who cares if 3 old dudes got in? I propose that they make a wing of the TV Hall of Fame for the Hottest Women on Television.
JENNIFER GARNER FROM ALIAS
The only blemish on this princess is Ben Affleck.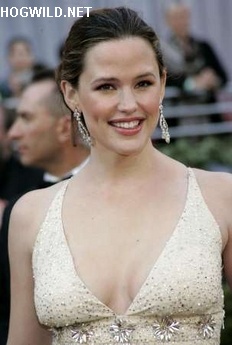 ALYSSA MILANO FROM CHARMED AND WHO'S THE BOSS?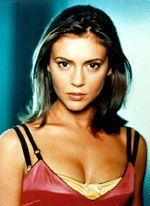 Alyssa can be my boss any night of the week.
NOTE MY GIRLFRIEND: I love you. I know that you're the boss.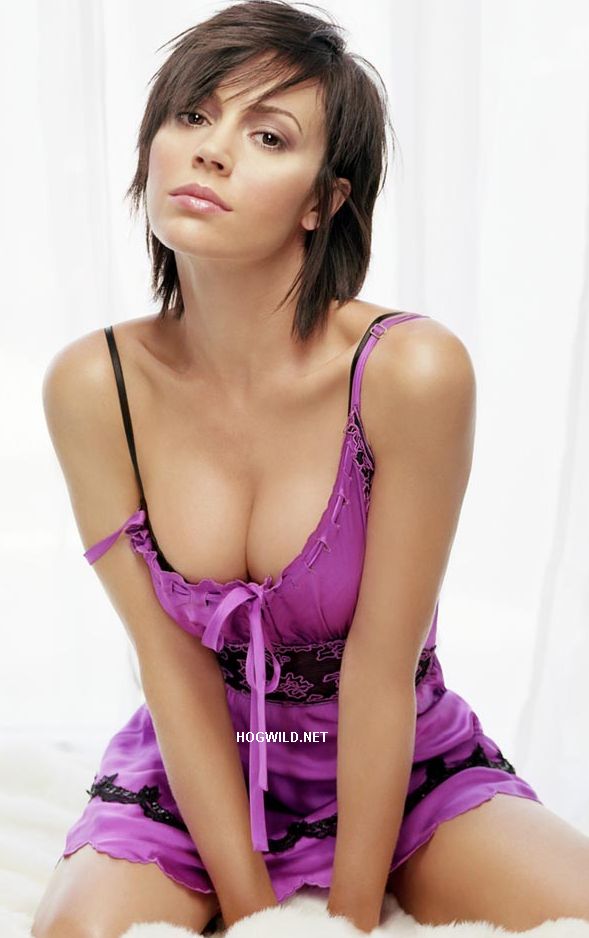 Yeah, she's Charmed all right!
JENNIFER LOVE HEWITT IN GHOST WHISPERER
You can't tell me you don't want to whisper in between HER snuggle bubbles.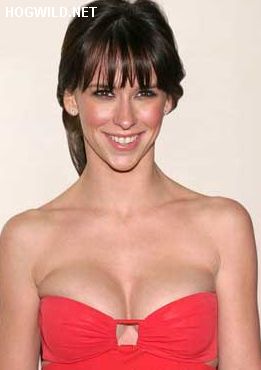 NOTE TO MY GIRLFRIEND: I know what I just said, but I really only want to whisper in between YOUR snuggle-bubbles.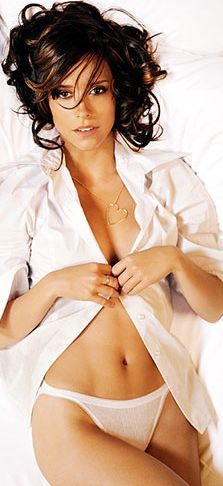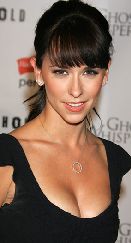 In her TV show, Jennifer Love Hewitt talks to dead people. Great. So now hot chicks would rather to talk to DEAD people instead of me.
SUZANNE SOMERS IN THREE'S COMPANY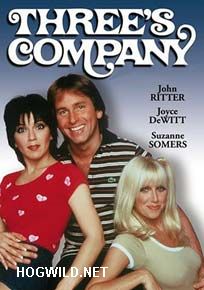 She played the part of "dumb blonde" perfectly. Since the trend is to remake old TV shows into movies, I think they should make Three's Company the Movie with:
Ryan Seacrest as Jack Tripper
Mariska Hargitay as Janet
and Jessica Simpson as Chrissy.
As a kid I used to love watching the reruns of this show. But it did get bootleg when they replaced Suzanne Somers' character with her "cousin." But then it got better when they brought in Terry. In fact, I think Prisilla Barnes as Terry was hotter than Chrissy!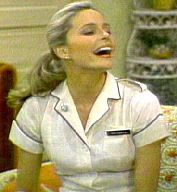 Could be the nurse outfit. They should have taken Three's Company to the next level of softcore entertainment and made Terry a Nurse, Janet a hot schoolgirl and Jack into a Pizza Delivery guy.
MARY ANNE & GINGER FROM GILLIGAN'S ISLAND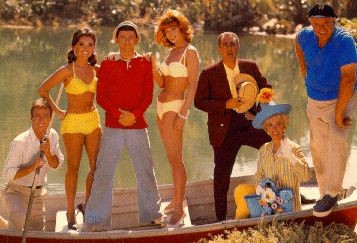 When discussing the hottest women on Television, you have to include these 2. Who was hotter? Who cares? You should just be happy you don't have to bang Mrs. Howell every night. I never thought I would feel bad for a millionaire.
CATHERINE BACH AS DAISY DUKE IN DUKES OF HAZZARD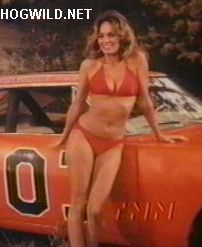 This is a no-brainer. If you don't think she belongs in the TV Hottie Hall of Fame, you are one of the following:
1 - a homomomo
2 - only into fat chicks
3 - turned off by trailer trash redneck chicks who probably can't read.
While all 3 are acceptable reasons, consider this:
Can you name any hot chicks from the 1920's? Didn't think so. But 90 years from NOW... will people remember Daisy Duke? Yes. They will say, "Daisy Duke was that character who had a type of short-shorts named after her and was given tribute in a rap song by the 69 Boyz."
Check back here in 90 years. You'll see that I'm right.
HOLLY ROBINSON IN 21 JUMP STREET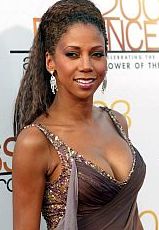 This girl is fine!
NOTE: When speaking of hot black chicks, it is proper to call them either "fine" or "bangin'." In this case, Holly is both fine AND bangin'.
PAMELA ANDERSON AND FRIENDS IN BAYWATCH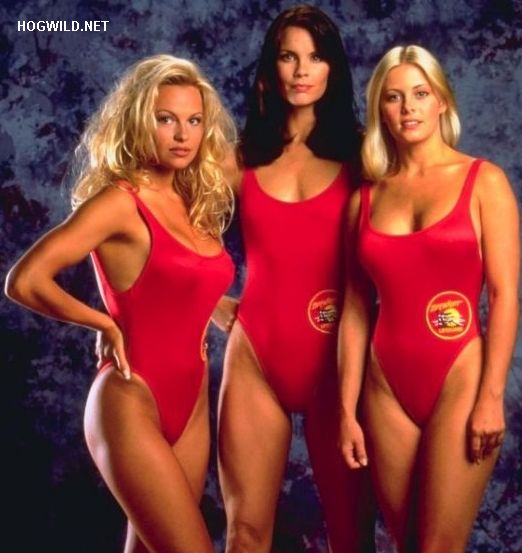 Okay, the whole point of this show was to look at the chests of David Hasselhoff and Pamela Anderson, hairy and plastic respectively.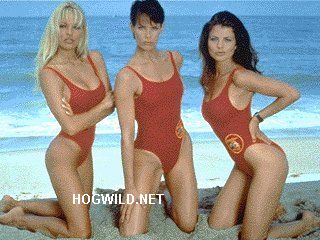 If you were at the bar, you'd be talking to the girls on the ends, workin' your game. BOTH want to come home with you! But then that stupid b!tch in the middle has to be a buzz-kill and talk about how she's the Designated Driver and they have to work tomorrow morning and how she hates all men and she can't wait until all males are replaced with vibrators that have the ability to change flat tires.
LUCY LAWLESS IN XENA: WARRIOR PRINCESS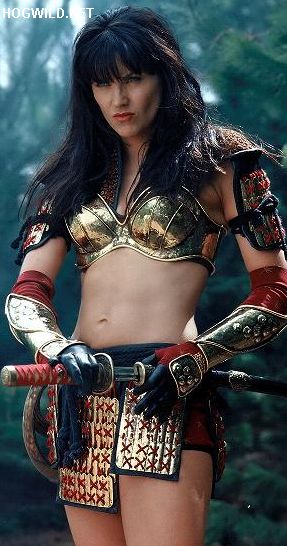 To me, Xena will always be the bootleg Wonderwoman. C'mon. The dark hair with blue eyes... the great body... the ability to kick your ass and not smear her lipstick. All ripped off from Wonderwoman!
Mad bootleg. They copied everything. Wonderwoman flew an invisible plane, why not have Xena ride an invisible horse?!
LYNDA CARTER AS WONDERWOMAN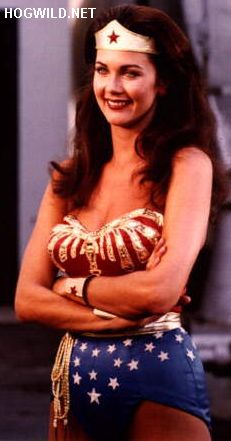 Okay, just as baseball has Babe Ruth, hockey has Wayne Gretsky, and basketball has Michael Jordan... Hot Women on TV has Lynda Carter. For me, this is the best.
NOTE TO MY GIRLFRIEND: YOU are the best. Especially if you ever decide to get into that Wonderman outfit I got for you.
Wonderwoman is strong and independent, yet soft and busty. She's quick to tie you up and she's got a great fashion sense with those bracelets. Plus she's patriotic!
I wonder if Super Heroes in other countries wear patriotic outfits. Like we have Captain America... is there a Captain Uzbekistan?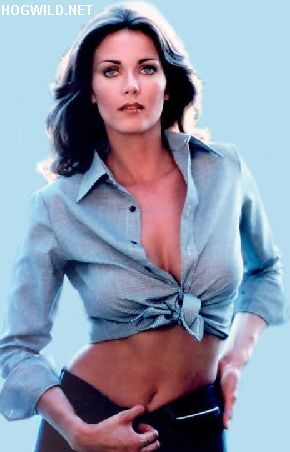 As you can see, Lynda Carter is incredible. Here she looks like Daisy Duke, but hotter. I think Lynda Carter should have been in EVERY TV show. She should have been Janet in Three's Company. She should have been one of Charlie's Angels. She should have been Winnie's mom on the Wonder Years and she should have been ALF.
You can't get much cuter than TIFFANI AMBER THIESSEN.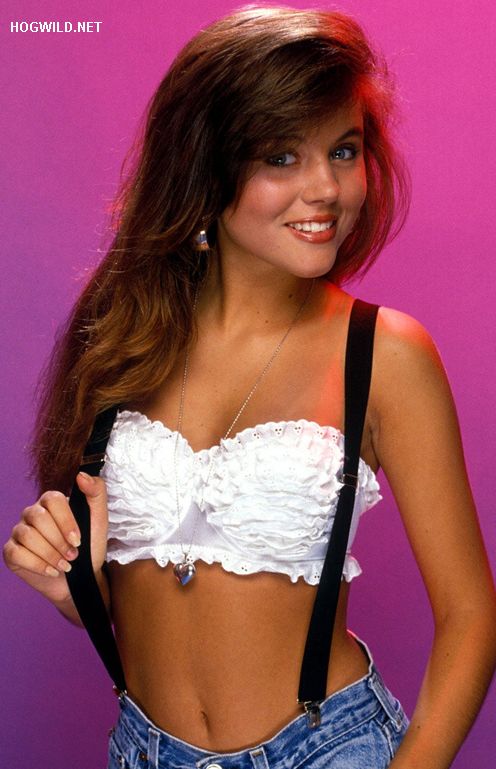 I heard that Screech from Saved by the Bell is dead broke so he's selling t-shirts to raise money. That's sad.
I think instead, he should become a pimp and get Kelly Ka-pow-pow-ski and that other stripper chick to be his hoes. It will be like that movie Hustle & Flow except instead of trying to get a record deal, Screech is trying to get another NBC Saturday morning kids show.
CHRISTINA APPLEGATE AS KELLY BUNDY IN MARRIED WITH CHILDREN
Bundy! Bundy! Bundy! She delighted us with the "Bundy Bounce" as she ran up and down those stairs. Not only was she super hot, but she was also really funny. I can't tell you how many times I licked the TV screen while watching her. Okay, yes I can. 804.


If you think there is Hottie that belongs on the Hall of Fame ballot, you can make your case in the Comments. WARNING: You will be banned if you include any member of the cast of the Golden Girls.