Brazilian Girls! Let us honor the land that gave us the thong bikini bottom for women. Brazil is the homeland to many of the world's hottest girls.
Let's begin with Adriana Lima: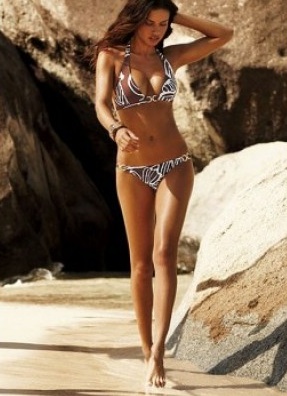 Adriana Lima is adept at walking while in a bikini.
She's also excellent at looking directly into the camera with cat eyes and pouty lips.
These are the skill sets of a Victoria's Secret model.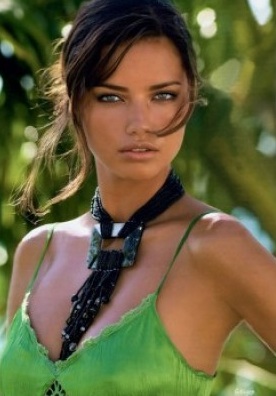 Adriana Lima is also quite good at looking out into space.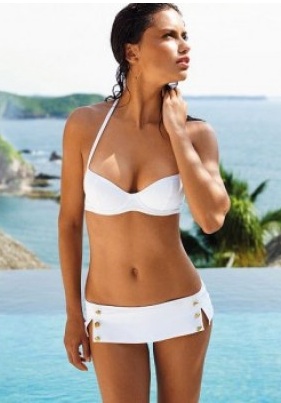 Adriana is thinking, "I wonder how I'll celebrate the 3 million dollars I just made by standing on this beautiful beach. I think I'll invest it in a diversified portfolio of international stock and securities... Ooh! That cloud looks like Santa!"
Gisele Bundchen is everyone's favorite Supermodel NFL Super Bowl wife.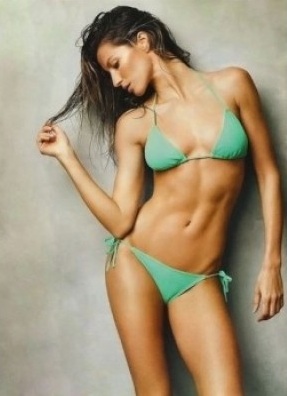 Gisele Bundchen sometimes says stupid things. She's not so good at talking. But she's really, really good at sit-ups.
Alessandra Ambrosio is sitting outside in her lingerie next to a meth lab. Hot.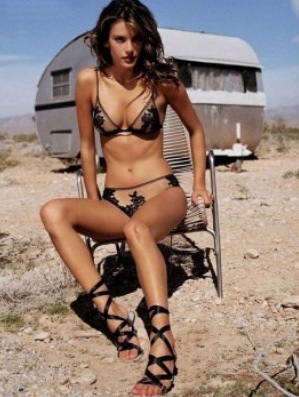 Alessandra Ambrosio gets paid more for sitting on a log than all the lumberjacks in the world get paid combined in their lifetimes. Why? Because she makes them jack their lumber! Awww! haha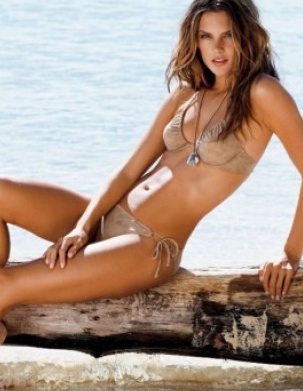 Alessandra Ambrosio has great hair and the slim body of a sexy salamander.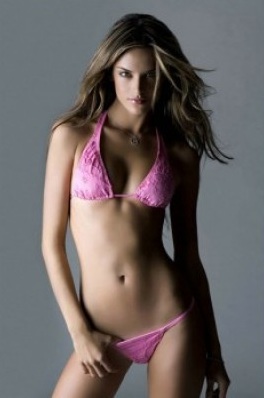 I also like how Alessandra hooks her thumb in her bikini bottom. Is she hinting something sexual? Is she slyly scratching an itch? Or is it just because she doesn't have pockets?
Ana Hickmann is a Brazilian model of German heritage.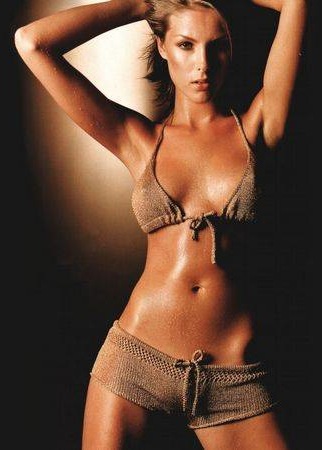 Ana Hickmann shows off her under-cleavage.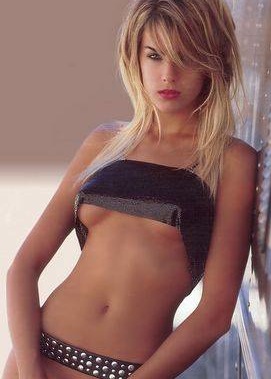 Ana Hickmann is a Victoria's Secret Model. She appears to have fake boobies (or as I call them... Foobies) but I would have to do some manual testing to be sure.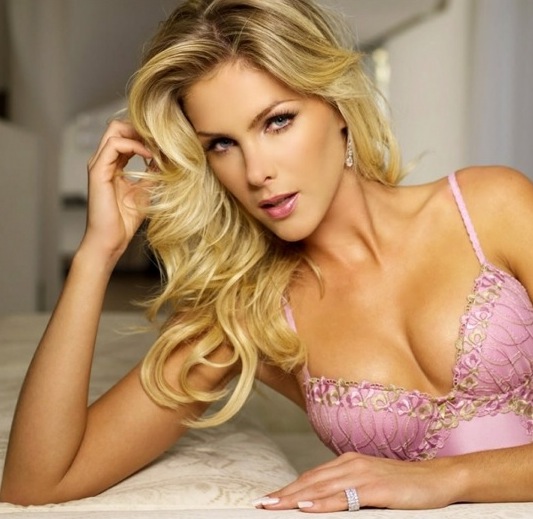 And by manual testing, I mean man-handling her melons. And by man-handling, I mean vibrating my face between them like a wet dog shaking off.
I've never actually seen a girl wear a gold bikini at the beach, but different rules apply to Ana Hickmann.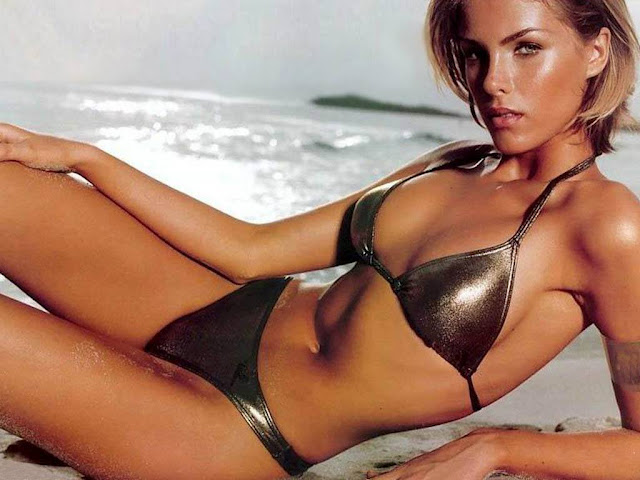 For instance, she never gets speeding tickets, she can cut the line at amusement parks, and if she asks politely -- men will eagerly donate their kidneys in her name. Also, while most humans sweat, when Ana gets hot, she gently oozes a light honey-like substance.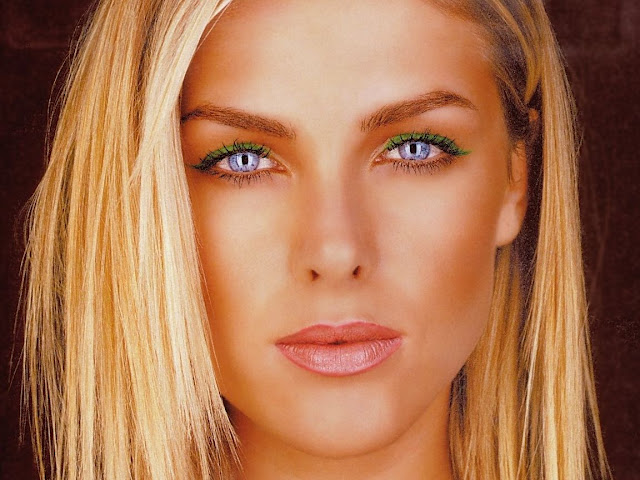 Ana Hickmann is such a hot Brazilian girl that she can wear green eye-shadow and make it look beautiful. When an average looking girl wears green eye-shadow she looks like some kind of Frog Prostitute. R-r-r-r-r-ibbit, big boy! R-r-r-r-r-r-ibbit! I've got a freakishly long tongue, long legs, and wet slimy skin!
Emanuela de Paula is next on our list of super hot Brazilian girls.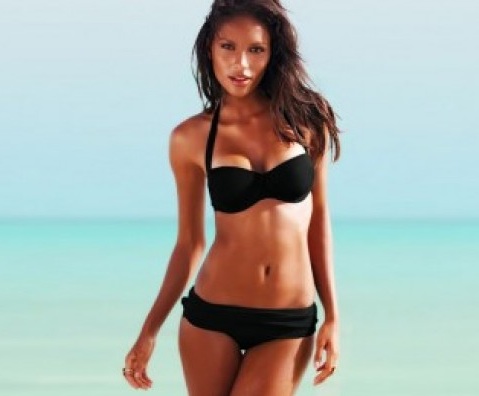 She's got it all. Beautiful skin. Sexy hair. Great figure. A knack for crossword puzzles. She's a winner.
Emanuela de Paula is just loungin'. But how does she stay so thin? The secret diet of Emanuela de Paula is that she only eats a handful of cinnamon dust for breakfast. And for lunch and dinner she reminisces about breakfast.
But Brazilian girls aren't just great at modeling, they are also outstanding athletes: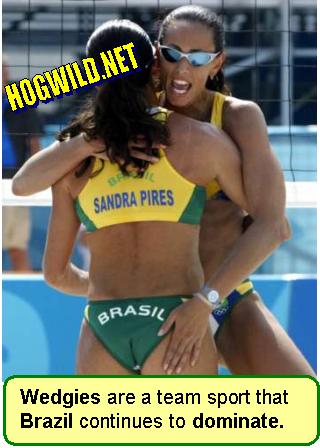 Jeisa Chiminazzo is newer to the modeling scene than the other Brazilian girls.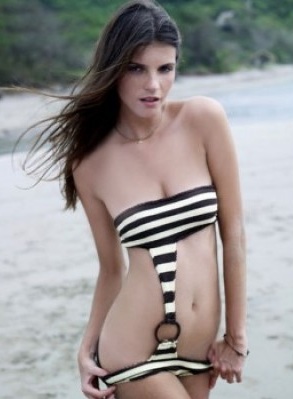 As you can see, Jeisa Chiminazzo is still learning the challenging art of wearing your bikini on straight. She's improving though. At first she had it on upside down. Then inside-out. And at one point, she tried to eat it. But now she knows bikinis are for wearing and then pulling down.
Caroline Ribeiro has that girl-next-door look.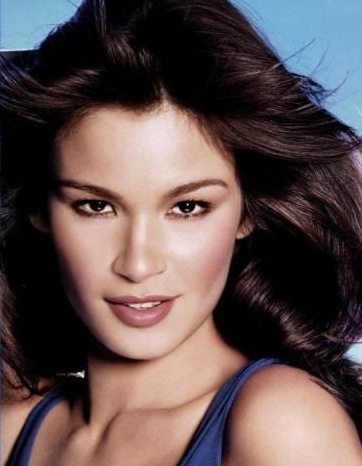 Except if you lived next door to Caroline Ribeiro you'd be making pathetic excuses to knock on her door everyday. "Um, our mail got mixed up. This envelope addressed to CURRENT RESIDENT was meant for you!" And, "Er, I was just knocking on your door at midnight because you're probably in your nightgown. DAMMIT! Did I say that thought out-loud? DAMMIT! I meant to say, may I borrow some salt? I'm having a salt emergency. See, I brought these margaritas but I don't have salt! Perhaps we can share them inside your place?"
OK, you've made it this far so you deserve this... Maryeva Oliveira and her butt.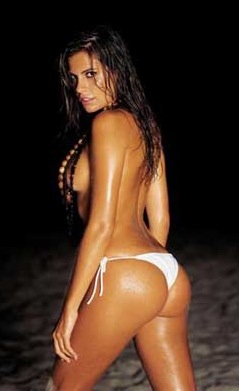 Maryeva Oliveira and her butt are regarded as two separate entities. Maryeva's booty is so impressive that it gets full rights as a citizen of Brazil. Her bottom gets its own driver's license, mailing address, and it can run for political office. Hey, it's better than most of the asses running for office anyway! BOO-YA! haha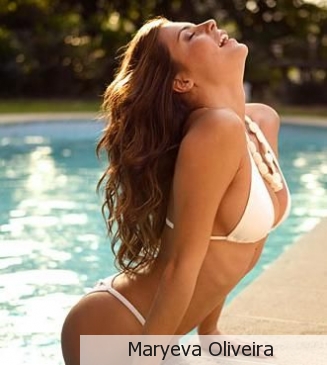 Maryeva Oliveira poses by the pool. Meanwhile all the guys at the pool are pointing at her. And not with their fingers! Awwww! haha
Maryeva Oliveira is trying to look shy. But let's be real. Anyone who poses half-naked is not shy.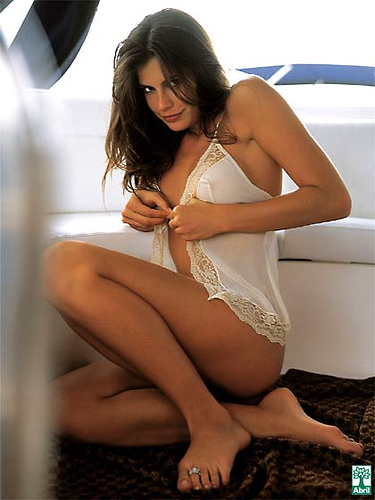 Maryeva Oliveira is as shy as a Koala Bear tanning his balls.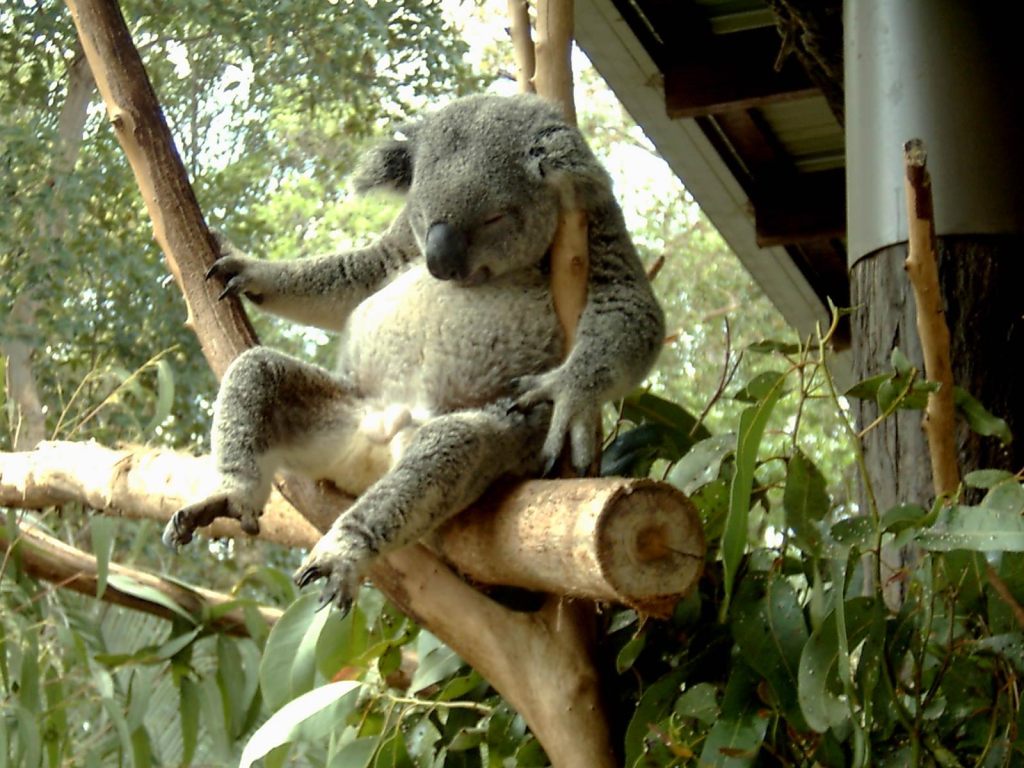 Finally, I present to you Ana Beatriz Barros: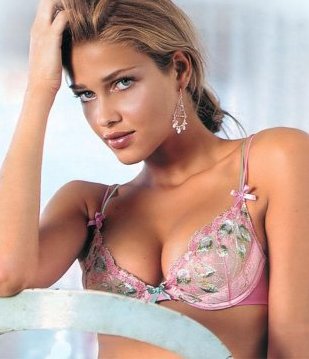 Ana Beatriz Barros in a bra. Try to say THAT 3 times fast! haha
Ana Beatriz Barros is lookin' all sad and sexy.

She's all like, "I'm sad because I broke up with my boyfriend. I need to get over it. But who will love me NOW?" And that's when she gets trampled to death by every man within a 10,000 mile radius running towards her, including the Dalai Lama and Bert and Ernie from Sesame Street.
NOTE: That may have been insensitive. I apologize to anyone who religiously follows Sesame Street on television.
Ana Beatriz Barros looks confused and hot. Two of my favorite qualities in a girl. hahah! Just kidding! Mostly.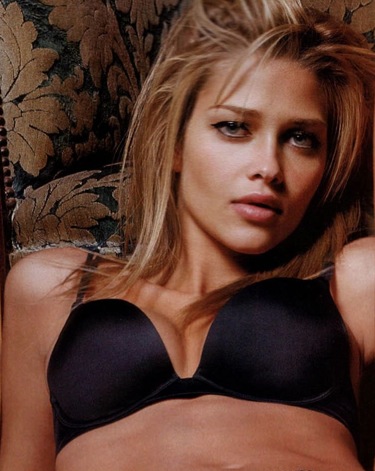 Ana Beatriz Barros is also a Victoria Secret model: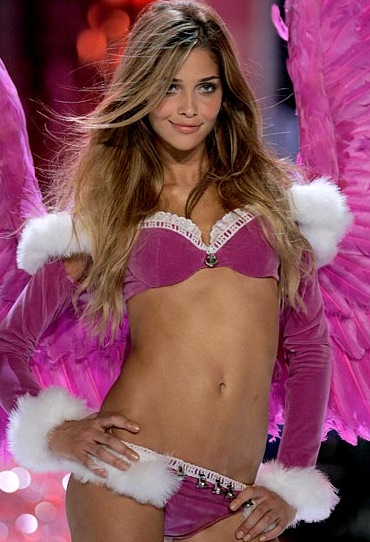 Daaaaamn! Look at that torso! Ana Beatriz Barros has a sexy long torso like no other!
Normally I'm not a fan of eyebrows being a different color than a girl's hair but Ana Beatriz Barros can pull it off. That's not the only thing she can pull off! WHOA! ZINGER! ZOWEE! haha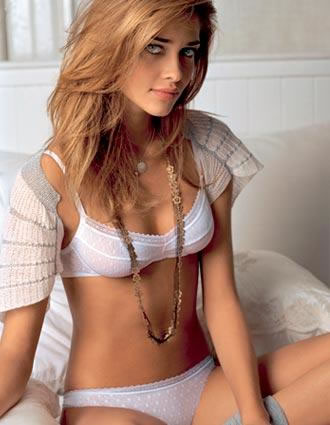 I guess this is supposed to be Ana Beatriz Barros with her "just hangin' out on the bed on a Sunday afternoon" look. There are many beautiful Brazilian girls but I doubt that many can look so good wearing regular white panties and some kind of seaweed necklace.
South America's largest country is not only famous for all their hot Brazilian girls. Brazil also has noteworthy achievements in science: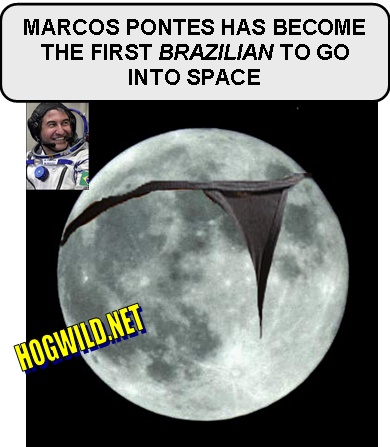 We love you, Brazil!
If you like these hot pictures, you will also like:
* Hot Female Sports Reporter: Jenn Brown
* Hottest Sports Wives: If you can't Win a Trophy, then Marry one!
* World's Hottest Female Athletes
* Hottest Female Sports Reporters
* Top 10 Sports Illustrated Swimsuit Covers of All-Time
* The Hottest German Girls of Germany
* Megan Fox is so Freakin' Hot, to Feel Her Up, You'd Need to Wear Oven Mitts
* Beat your Pinata to Mexico's Hottest Mexican Women
* Pictures: LA Laker Girls vs. Boston Celtics Dancers
* World's Hottest Jewish Women
* World's Hottest Female Athletes
* Who is the hottest female singer of all-time?
* The Hottest Women on Television
* Hottest Actresses of Bollywood
* Who is the Hottest Bond Girl of All-Time?
* Hottest Girls of Christmas: The 12 Babes of Christmas
* Hottest Flat Girls: Hooray for Tiny Boobs!
* Miami Heat Dancers (Hottest 15 Pictures)
* Hottest Brazilian Girls: Adriana Lima, Gisele Bundchen, Alessandra Ambrosio, Ana Hickmann