Miami Heat Dancers! Nothing is more important in basketball than the cheerleaders. Sure there's dunking, dribbing, and dishing but really the most entertainment for your eyeballs comes when the dancers hop around in those skimpy outfits! That's when your mouth is whistled for double-dribbing as you fantasize about applying a pressure zone in their backcourts!
The Miami Heat Dancers are in lingerie: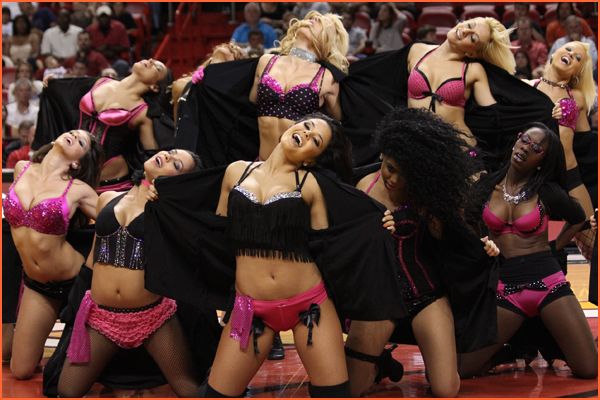 Why are they in lingerie? And what does that have to do with basketball or Miami? Who cares! It's hot chicks in lingerie!
To us mortals, this scene is crazy. To NBA players, this is what they see every night in their hotel room.
Wait. Look at the girl all the way on the right on her knees, wearing the glasses. Is it just me or does she have a huge package? OK, either that's a South Beach she-male or she REALLY needs to shave her pubic hair!
DREAM SEQUENCE: Which Miami Heat Dancer wants to sleep with me?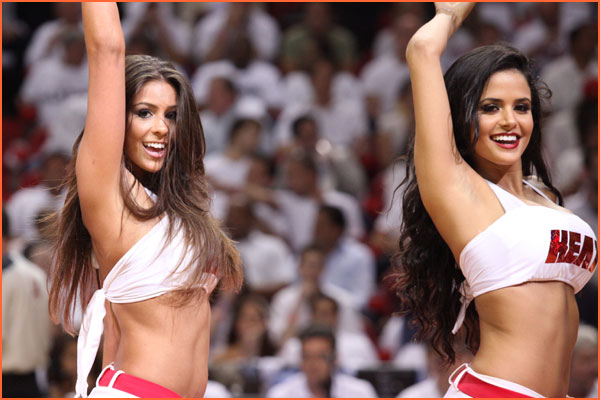 "Ooh! Pick me! Pick ME!", the girls shout in competition.
REALITY SEQUENCE: The girls are raising their hands to confirm they have more sexual interest in a USB dongle than me.
Wow. Total Heat hotness.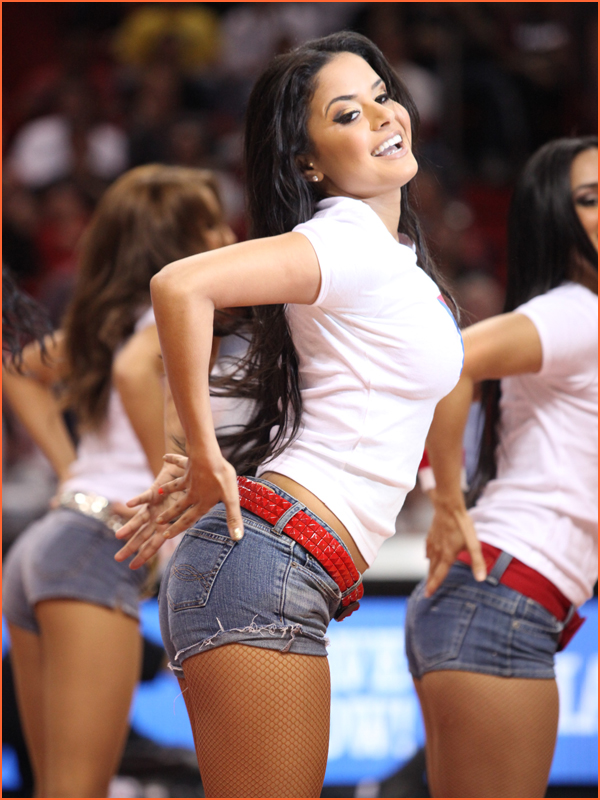 Though I have to say, if these girls dressed like this public -- jean shorts and fishnet stockings -- they'd be arrested for prostitution. But remember, it's not prostitution if you get paid to look sexy and make sex moves in public to strangers. This behavior is NOT prostitution. It's prostitute-LIKE. Which is totally LIKE... hot.
A special behind the scenes moment with the Miami Heat Dancers: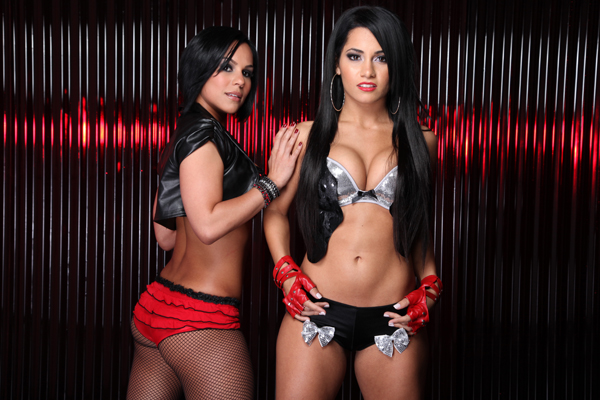 Or is this them at a private Bachelor party event? In any case, I'd like to penetrate the lane for the lay-up. Hey ladies, I've got a sweet finger roll. Awwww yeah!
The blonde is freakin' amazingly hot. She's happy because she gets to wear the sexy school girl socks. The brunette is mad because she has to wear the less-sexy $12 jogging pants from Modell's.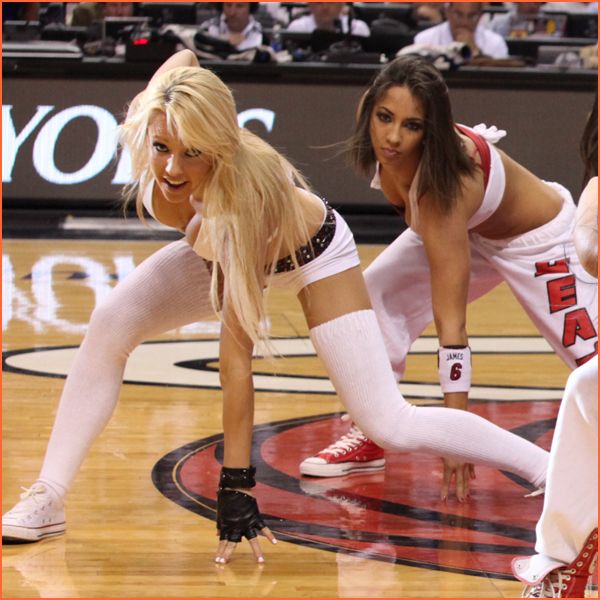 The blonde looks like she's going to dance in an old school Britney Spears video. The brunette looks like it's laundry day.
I totally love the whipping-the-hair thing.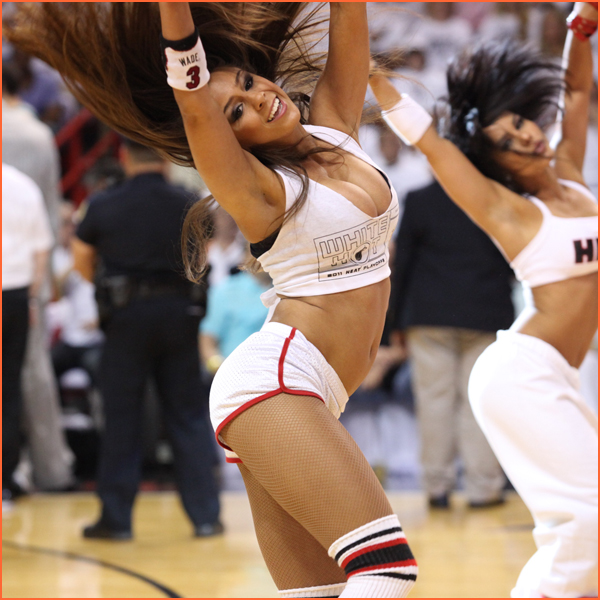 Ladies, remember, long hair is sexy. Short hair is for when you want to become a pro bowler and date the women on the softball team.

OK, I don't know WTF is going on here. Are we in the future?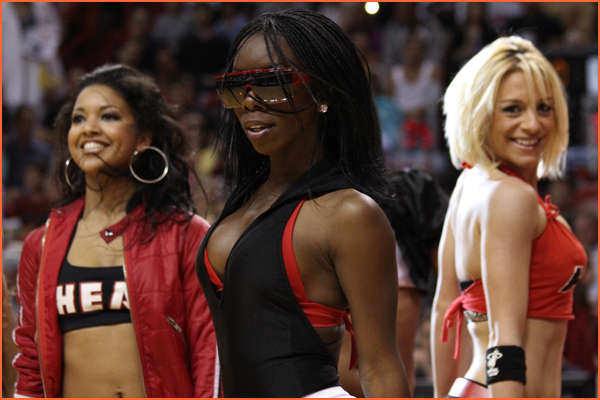 If you're gonna wear sunglasses like that, they'd BETER have special powers. Like x-ray vision or they shoot freeze rays. Because the only "special" power that's apparent is it's giving her the look of being very "special." As in, she lost her matching helmet. And after the game, she rode home on the short bus.
NOW we're talkin'! Super hot Miami Heat Dancers!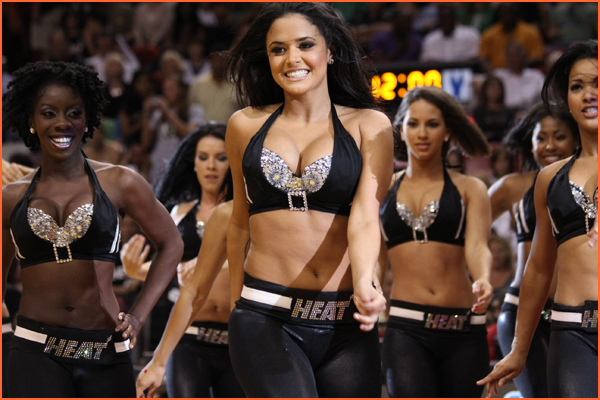 Miami Heat Cheerleaders are just so essential. Without cheerleaders, us fans might forget to cheer! Sure, there's the flashing graphics on the scoreboards that shout, "CHEER!" and the ridiculously loud music and drum beats, and the announcer guy who actually tells us what to say and when but... those visual, auditory and voice commands are easy to miss.
What you CAN'T miss are the lovely ladies who are jumping up and down. Unless you're not seated in the most expensive sections. Because then you can't see them at all.
Standard NBA Dancer chest pump dance move: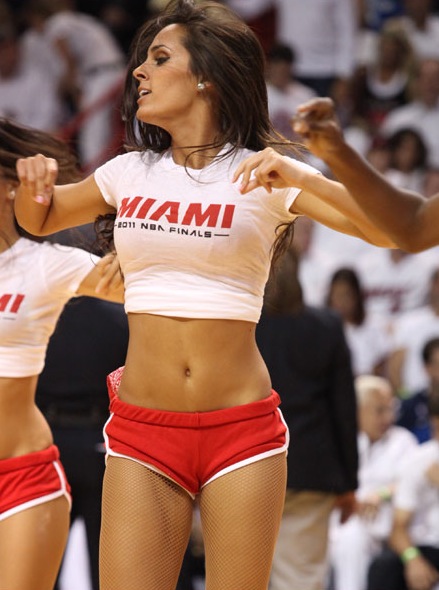 She looks hot doing it though and that's what counts. Remember, it's not which team wins or loses but about how many fans got boners.
Another classic NBA Cheerleader pose: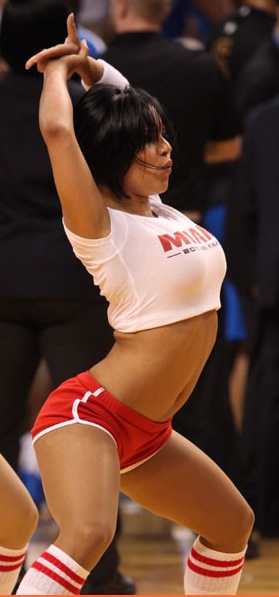 Ya gotta love the chest out / ass out pose. It's really a great pose. All women should stand like this at ALL TIMES! Ladies, if you want more attention, stand like this while waiting for the bus! Or while on line at the grocery store! Trust me, you will get A LOT of attention!
I'm a basketball fan but I admit, not a huge fan the Miami Heat. So I must have missed it when they hired Mr. Snuffleupagus to be their mascot! WTF is that thing?!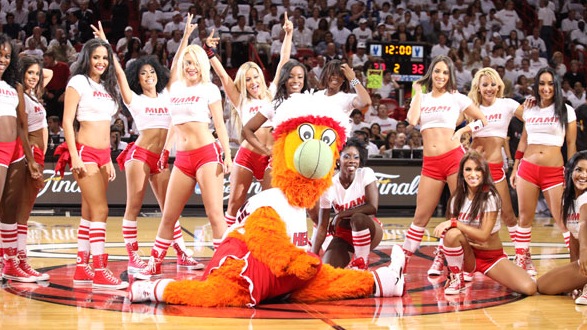 That thing is so weird it distracted me from the intelligence of the dancers! And by intelligence, I mean boobies.
Oh, it would be so cool if in "adult videos" they put in some random creature like the Miami Heat mascot. You know, a hilarious WTF moment. I don't want to see that thing humping anybody -- just kinda walking by in the background. haha
Another hot Miami Heat dancer. Why does she have a red doo-rag and acting like she's steering a car? Are drive-by shootings sexy now?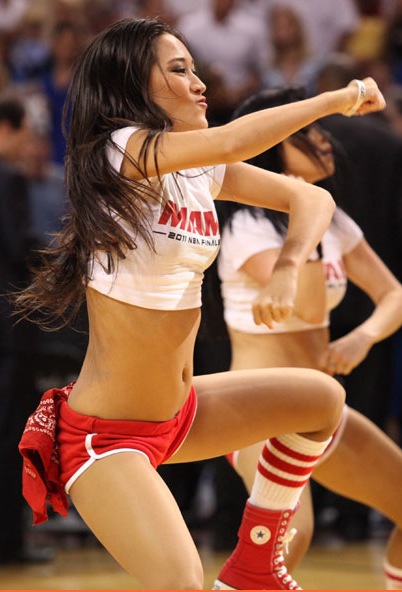 I suppose every woman becomes a gang member once a month. They join the Bloods and are on the doo-rag. Awwww! hahaha
This Miami Heat Dancer is pointing at me saying, "YOU! Will never drill one from downtown!"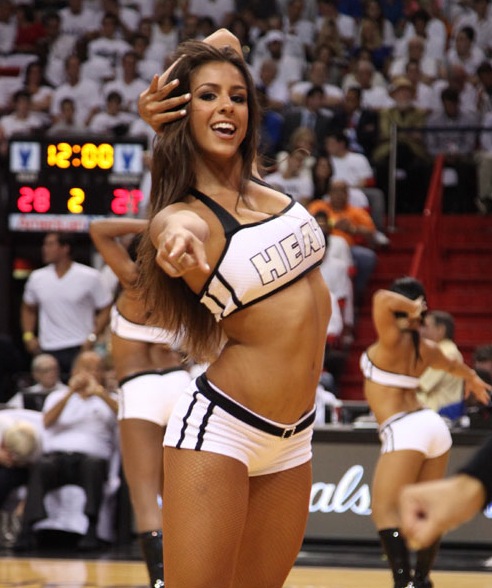 Besides, if I DID, I'd unfortunately beat the 24 second clock.
And finally, we have a photo I like to call, "Miami Heat Dancer taking a sh!t."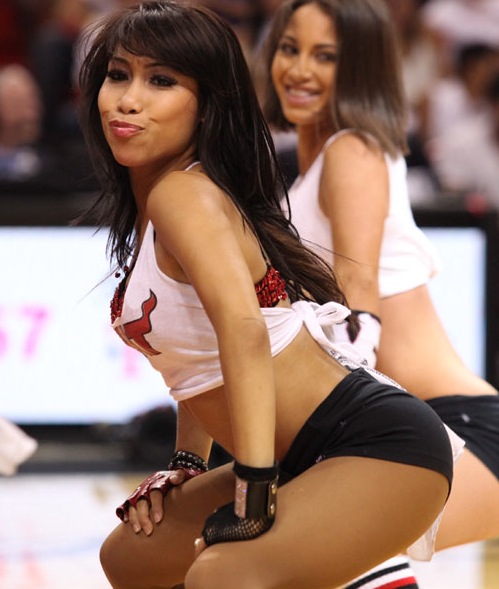 Normally this dance pose is hot. However, when you make a face like you're constipated, this becomes less attractive.
ANNOUNCER: In good news, the Miami Heat squeeze out a victory! In disturbing news, this Miami Heat Dancer squeezed out a doody ball. FOUL!
If you like these hot pictures, you will also like:
* Hot Female Sports Reporter: Jenn Brown
* Hottest Sports Wives: If you can't Win a Trophy, then Marry one!
* World's Hottest Female Athletes
* Hottest Female Sports Reporters
* Top 10 Sports Illustrated Swimsuit Covers of All-Time
* The Hottest German Girls of Germany
* Megan Fox is so Freakin' Hot, to Feel Her Up, You'd Need to Wear Oven Mitts
* Beat your Pinata to Mexico's Hottest Mexican Women
* Pictures: LA Laker Girls vs. Boston Celtics Dancers
* World's Hottest Jewish Women
* World's Hottest Female Athletes
* Who is the hottest female singer of all-time?
* The Hottest Women on Television
* Hottest Actresses of Bollywood
* Who is the Hottest Bond Girl of All-Time?
* Hottest Girls of Christmas: The 12 Babes of Christmas
* Hottest Flat Girls: Hooray for Tiny Boobs!
* Miami Heat Dancers (Hottest 15 Pictures)
* Hottest Brazilian Girls: Adriana Lima, Gisele Bundchen, Alessandra Ambrosio, Ana Hickmann