Mets girls, Mets female fans of the hot variety, pretty much any woman in a Mets jersey becomes twice as hot. Why? Because she's not a front runner! Although many of these girls are running with big things in front! Whoa! hahah
So here are the Hottest Mets Girls!
Feel free to change the batting order. I'm just happy to have them in the line-up. Yes, there are extra girls who will be on the bench. Don't complain. You know you'd be happy to have ANY of these hot girls ride YOUR pine!
NOTE TO SELF: Grow up!
EXTRA NOTE TO SELF: No way!
Leading off is Mets bikini girl: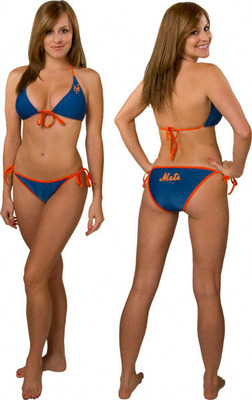 I love the little NY Mets logo on the top of the bikini. OK, it took me 45 minutes to notice it. Admit, you were also thinking of thrusting your face in between her bikini baseballs and vibrating your face. Hey Beer Man! I need a... B-r-r-r-r-r-r-rewski!
It would be amazing if Mr. Met tried to do that with his huge bobble head! That would be one wild pitch!
Batting in the two hole... Heh heh. Two hole. It's Miss USA Rima Fakih!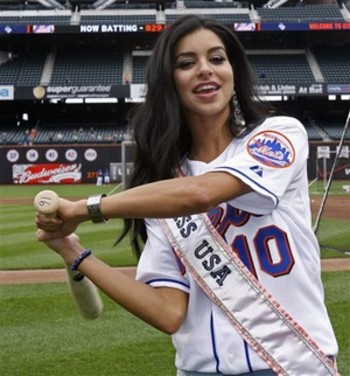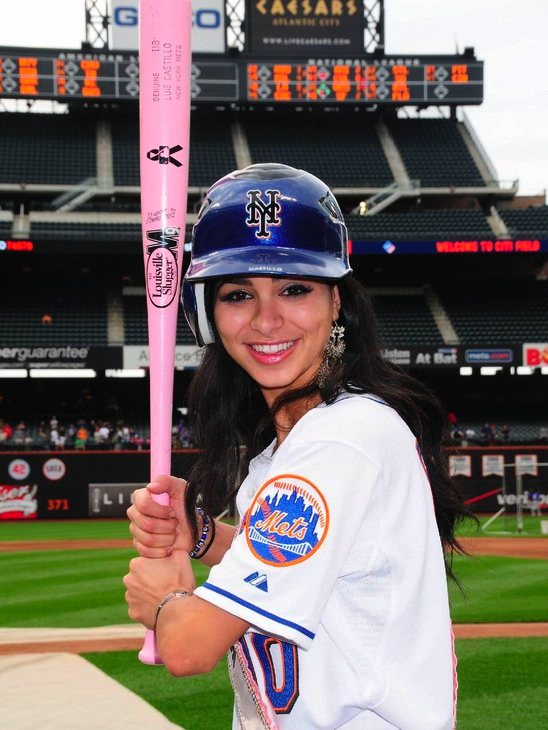 She's super cute but she gets minus 1000 points for using the Louisville Slugger of Luis Castillo. Though I'm certain he wouldn't mind seeing her choke up on his bat!
BONUS BABE: Alyssa Milano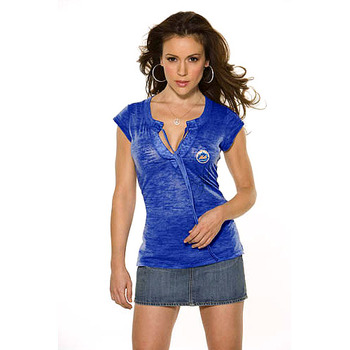 Ms. Milano will pretty much get dressed in any baseball uniform. So she doesn't count as a Mets fan. She's more of a general fan of ¢0ck. Oh, I mean MLB. My mistake. Ahem.
Batting third is this kinda goth-looking pretty Mets girl: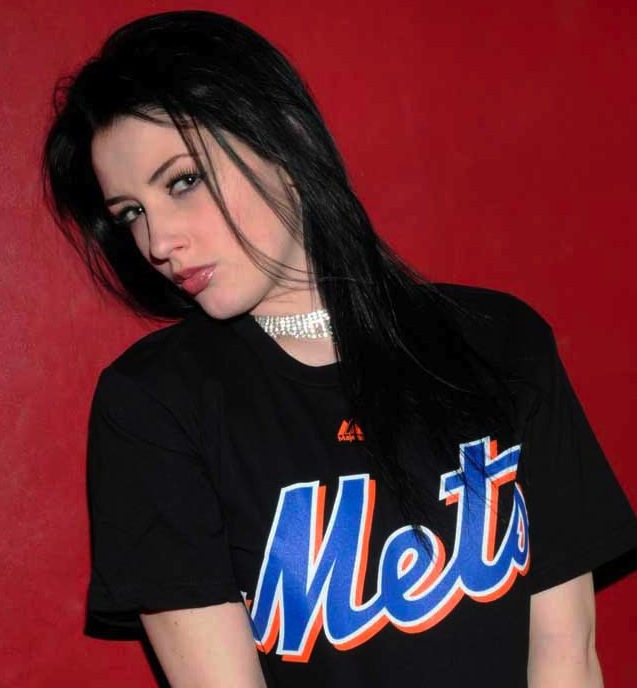 Now here's the girl you want to Clean Up. Tehmeena Afzal: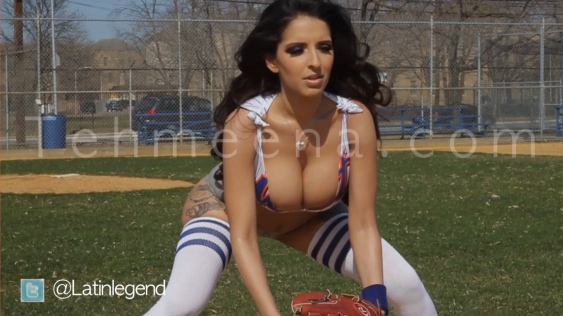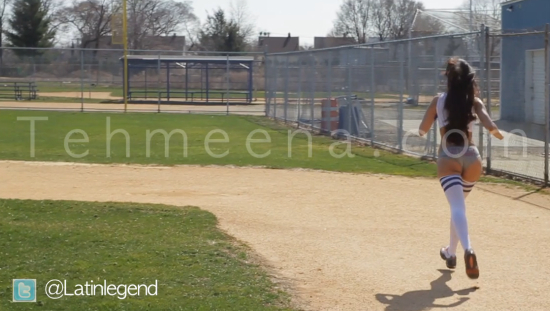 Seriously, as of this writing, the Mets stink. Please give Mets fans a reason to come to the ballpark. Hire Tehmeena Afzal as a ballgirl. Or as the leftfielder. Whatever. I'd rather watch her handle balls than anyone else on the Mets.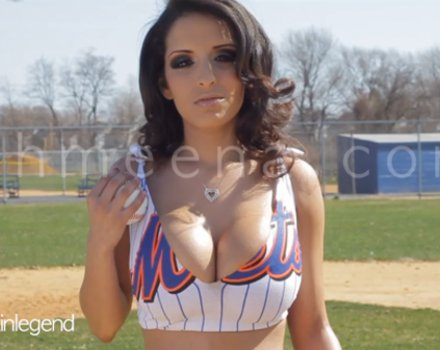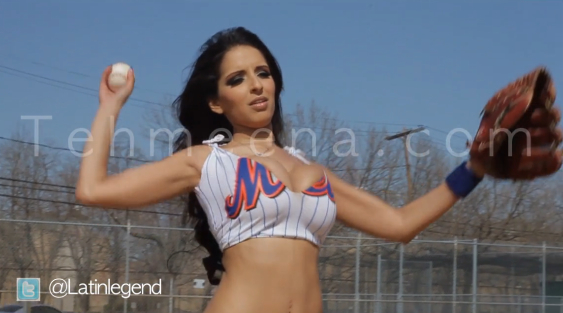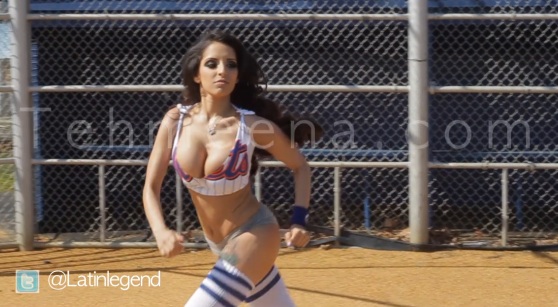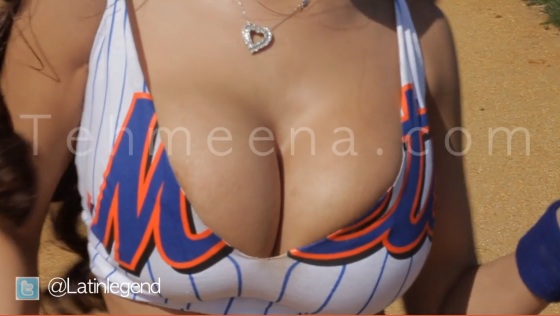 ABOVE: O.M.G!!!! What an AMAZIN' necklace! I wonder if it's real or synthetic? Who cares!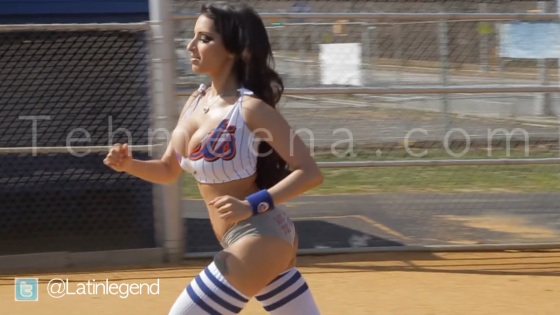 Wow. Look at that INCREDIBLE wristband!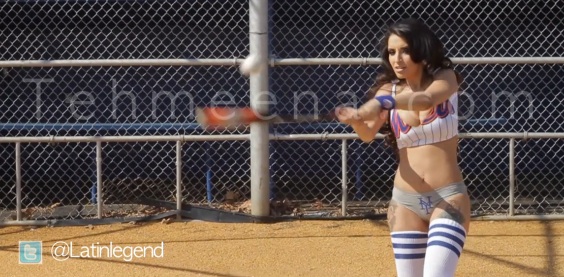 OK, normally I'm not a big fan of gray panties but she's so hot, I don't care if she mismatches her home jersey with her away underwear. hahahah
Batting 5th is this hot chick from the7line.com. They have a calender of hot Mets girls for sale.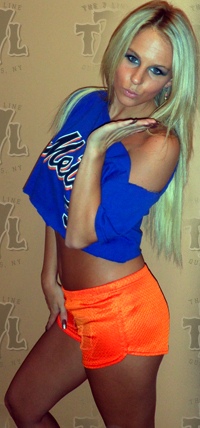 I like her except that she's wearing the orange shorts from Hooters.
BONUS METS BABE: It's Amy Winehouse!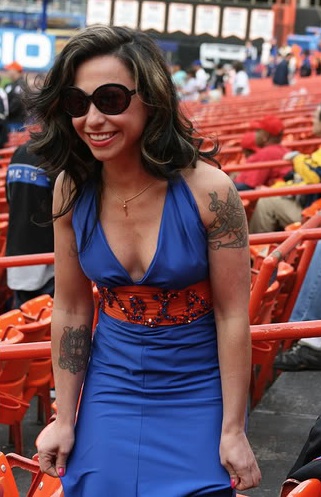 OK, it's obviously not. But she kinda looks like an Amy Winehouse lookalike. And what makes her extra hot is that appears to be a homemade Mets dress. Look, the belt says Mets! So cool! Any girl who sews her own Mets dress is super hot.
Batting 6th is this Mets girl who has achieved MT. (Maximum Tannage).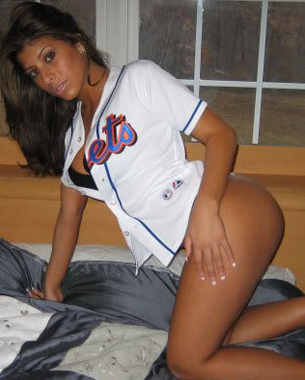 Batting 7th is this blonde girl Mets fan from the7line. I don't like the black uniforms too much, but I like her in it. Actually, you could dress her in a garbage bag and she'd still look hot.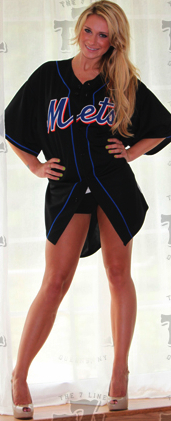 Batting 8th is this pretty Mets girl with the awesome hat.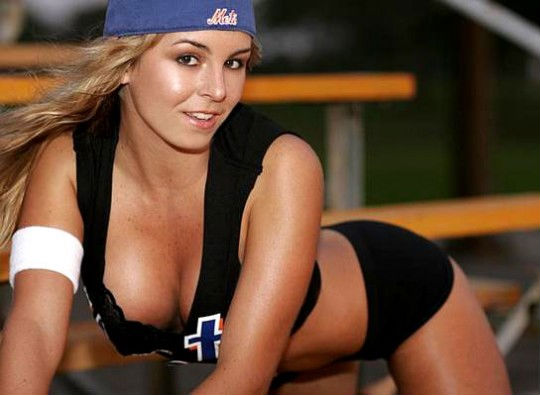 Rounding out the Top 9 is is this pretty brunette. I love a girl who flashes a little elbow.
Some key players off the bench are this little hottie with the groovy Mets shorts. She looks like she might be a redhead. I wonder if she has a Rusty Staub.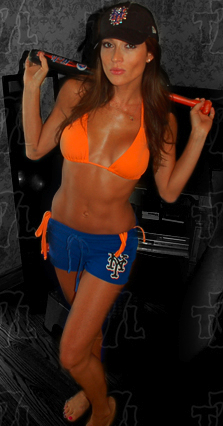 And to remind us of the 1990's: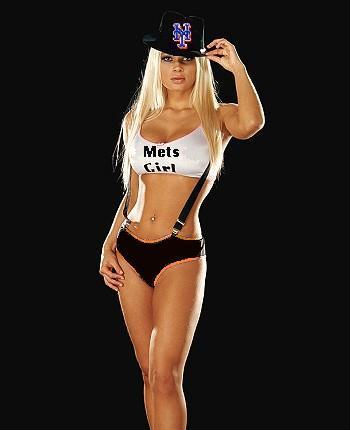 ABOVE: She kinda looks like Pamela Anderson, if Pam Anderson had more suspenders and less hepatitis.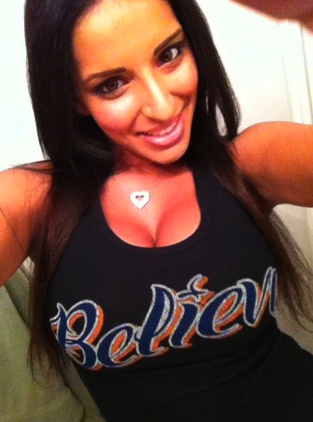 Yes! Just like her Mets shirt says, ya gotta BELIEVE! Believe her snuggle-bubbles are real! I want to believe!!! haha :)
If you like these hot pictures, you will also like:
* Hot Female Sports Reporter: Jenn Brown
* Hottest Sports Wives: If you can't Win a Trophy, then Marry one!
* World's Hottest Female Athletes
* Hottest Female Sports Reporters
* Top 10 Sports Illustrated Swimsuit Covers of All-Time
* The Hottest German Girls of Germany
* Megan Fox is so Freakin' Hot, to Feel Her Up, You'd Need to Wear Oven Mitts
* Beat your Pinata to Mexico's Hottest Mexican Women
* Pictures: LA Laker Girls vs. Boston Celtics Dancers
* World's Hottest Jewish Women
* World's Hottest Female Athletes
* Who is the hottest female singer of all-time?
* The Hottest Women on Television
* Hottest Actresses of Bollywood
* Who is the Hottest Bond Girl of All-Time?
* Hottest Girls of Christmas: The 12 Babes of Christmas
* Hottest Flat Girls: Hooray for Tiny Boobs!
* Miami Heat Dancers (Hottest 15 Pictures)
* Hottest Brazilian Girls: Adriana Lima, Gisele Bundchen, Alessandra Ambrosio, Ana Hickmann